Maisie Williams just got the most perfect Game of Thrones tattoo
On July 7th, Maisie Williams posted a picture on Instagram showing a bloodied pair of white sneakers, marking her official goodbye to Game of Thrones. And after the actress wrapped the role of Arya Stark — a character she's played for nearly a decade — she seemingly wanted to carry a piece of Arya with her always. So she recently got a tattoo that simply says, "No One."
As Game of Thrones fans know, "No One" refers to Arya's time with the Faceless Men while training at the House of Black and White during Season 5. Williams visited tattooist Mr. K at New York City's Bang Bang for the ink, and she re-uploaded Mr. K's photo from the day to Instagram Stories on Sunday, July 22nd. The pic reveals a fine-line tattoo stencil next to a tattoo gun with red ink.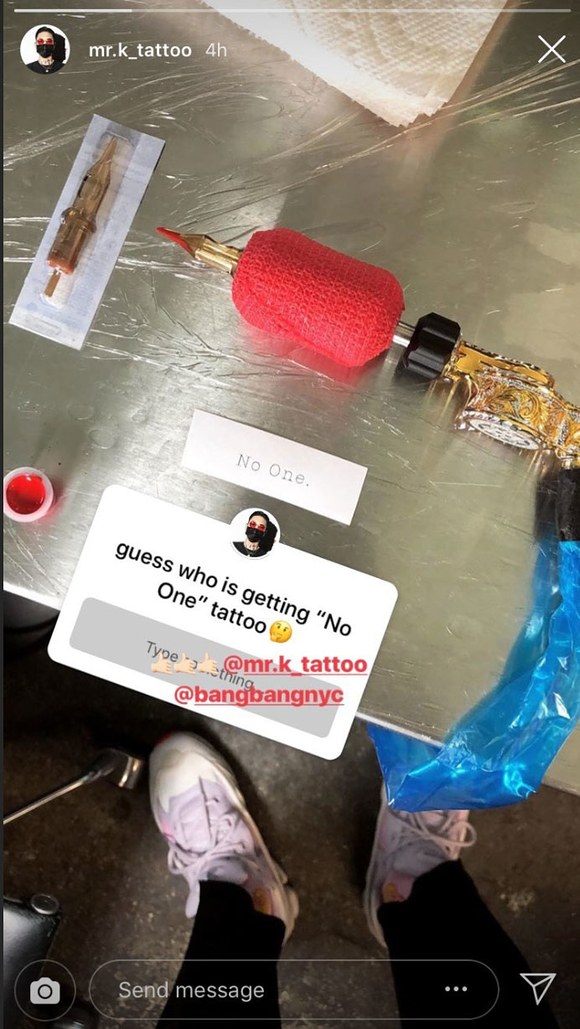 Unlike her onscreen sister, Sophie Turner, who plays Sansa Stark, Williams' most recent GoT tattoo doesn't play into theories about the outcome of the final season. Turner's tattoo, which read, "The pack survives," led people to believe that the Starks come out victorious at the end of the eighth and final season. But Turner previously denied her tattoo had any relation to the upcoming season — "It's just a quote from last season," she told James Corden while on The Late Late Show.
This is Williams' second Game of Thrones-themed tattoo. In 2016, Williams and Turner got matching "07.08.09" tattoos on their forearms, which marks the date they were hired to join the cast.
Now we just can't wait for her to post an actual photo of the brand new tat.