Maisie Williams and Sophie Turner took the most amazingly glam bathroom selfie because of course they did
If there's one thing we love doing with our BFF (although, let's be REAL, we love doing absolutely everything with them) it's taking a really fucking good selfie. Because, obviously, there is only one other person in this entire world who you'd ever want to share personal camera space with, right?! And now, our favorite Game of Thrones besties, Maisie Williams and Sophie Turner (Arya and Sansa Stark, respectively) have taken the most amazingly glam selfie…and, like, OF COURSE, they took it in a freakin' bathroom and still looked amazing…
TWO QUEENS!
https://www.instagram.com/p/BMOu7U-hBw6
The image was posted by Maisie (although taken by Sophie…maybe because she's taller?!) and included the quote,
"I'll remember this noooorrrrty weekend for the rest of my life."
Her caption has us VERY CURIOUS about what noooorrrrty stuff these two amazing women got up to this weekend! Either way, they were clearly looking GLAM AF while taking a quick break from what was no doubt an amazing time. Their sexy vamp outfits have got us seriously wanting a black lace bralette like RIGHT NOW. And can we just say, "MAISIE WHERE DID YOU GET THAT AWESOME SHEER TANK TOP?!"
LOVE THIS WOMAN.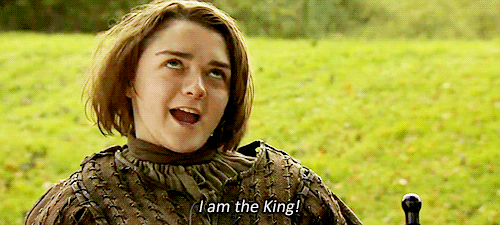 These two Game of Thrones stars are of course no strangers to taking some amazing Instagram photos, and they always manage to make us laugh with their adorable Twitter ~conversations~ and face swaps.
#Mophie forever!
https://www.instagram.com/p/BKn8A-ShiJj
We just can't get enough Maisie and Sophie in our lives, so keep it coming, ladies!