A float caught fire during the 3 p.m. parade at Disney World, and the pictures are absolutely bonkers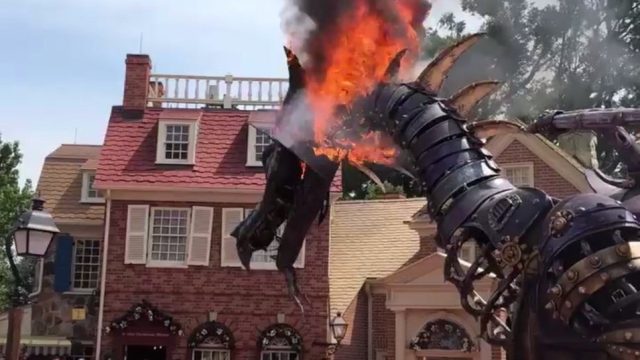 On Friday afternoon, May 11th, during the 3 p.m. parade at Magic Kingdom in Walt Disney World, one of the floats caught fire. Specifically, the Maleficent float. The float as it's normally supposed to run actually breathes fire — you know, because Maleficent is a DRAGON and stuff. But for reasons unknown, because fires are fickle, the head of the dragon float caught fire mid-way through the parade route for "Festival of Fantasy," sending guests and cast members at the park scrambling.
This is not something you see every day, and going forward, probably not something you're ever going to see again. From the video and pictures posted to social media, it appears as if this incident happened in Liberty Square, right before the float passed in front of Cinderella Castle. Normally, the fire for the float comes out of the mouth — because once again, duh, it's a dragon. But something somewhere went wrong, and it looks as if the fire quickly spread through the head of the float and down the neck. It appears as if THANKFULLY the fire did not spread anywhere else on the float, nor onto any other floats, surrounding buildings, or trees along the parade route.
And because this is Disney World and safety is of utmost importance, the fire was quickly dealt with and extinguished…but not before those pictures and videos started popping up on social media.
https://twitter.com/udfredirect/status/995023055855464452
https://www.youtube.com/watch?v=z0MEHWLkfos?feature=oembed
Following the incident, and after the parade floats had been cleared off, the Liberty Square area was closed off to guests, with The Hall of Presidents temporarily closing down.
Disney World hasn't released any sort of official comment about this, but we're hoping that everyone is a-okay and that operations can resume as normal as quickly as possible. Also sending well wishes and a speedy recovery to Maleficent, who was more fiery than usual this Friday.