Steve and Magda just endorsed Cynthia Nixon's campaign for governor of New York, so let's do this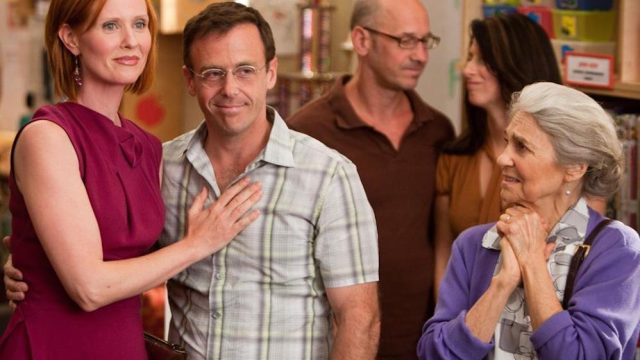 In case you missed it, Sex and the City has been back in the news lately for a really awesome reason. SATC actor Cynthia Nixon is running for governor of New York. The news has thrilled and delighted many people. Fans of her iconic character Miranda Hobbes are especially excited. Nixon's political views and stances seem like a great fit for governor of New York and are certainly a welcome change. We are all for seeing more women in power and are excited to see what comes from Nixon's run.
Fans of the show have been waiting to hear her former castmates weigh in. Kristin Davis, who played Charlotte, was one of the first to comment publicly. Davis expressed her pride and support for Nixon in a tweet. Kim Cattrall, who played Samantha and has infamously thrown shade at the cast, sort of made a supportive comment? She responded to a fan on Instagram, stating that she supports any former colleague's right to make a career choice.
But now, Nixon also has the support of Steve and Magda. Yep, her former TV boyfriend/baby daddy/husband and housekeeper/nanny have thrown their support into the ring.
We are loving this Sex and the City love for Nixon.
Actor David Eigenberg, who played Steve on SATC, is fully on board. He initially tweeted about it and then later made a statement to The Cut.
In his email to The Cut, Eigenberg discussed how caring and brave Nixon is.
"She's incredibly smart and caring, diplomatic and brave. I truly believe she has a genuine and heartfelt desire to move towards a common good for all the people of the Great State of New York."
Eigenberg unfortunately no longer resides in New York. So while Nixon has his full support, she can't have his vote.
Lynn Cohen also had something to say.
Cohen played Magda, Miranda's beloved and hilariously pushy housekeeper. Her statement gave us so many feelings of sisterhood and love.
"She's an amazing person, and she's been talking about the schools and the children and I wish we had more people like that who are interested in the government."
Cohen went on to add something particularly powerful.
"I also think we need women. You look at the government now and you think, where are the women? … Women are the smartest, let's face it."
You tell 'em, Magda. The election takes place on November 6th, 2018.