Madonna's "Billboard" Woman of the Year speech about sexism and misogyny is so inspiring and proves why she's the Queen.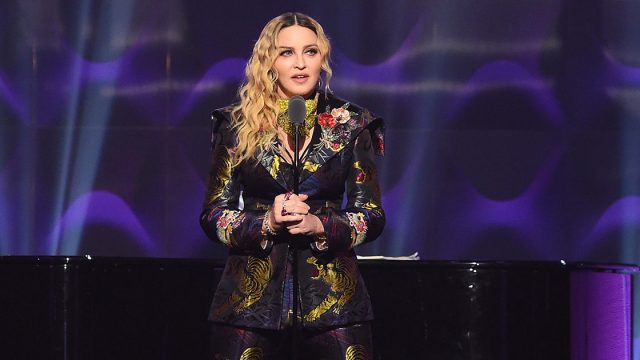 Legendary music icon and trailblazer, Madonna, was honored at this year's Billboard Women in Music Awards, and the star gave a lengthy, important, and inspirational speech. Picking up the award for Woman of the Year, Madonna's speech touched on topics of sexism, ageism, misogyny, bullying, abuse and the struggles she's faced across her nearly 35-year career.
Fresh off her incredible turn in Carpool Karaoke, Madonna graced the Billboard Women in Music event in the most iconic colorful tiger pantsuit, and joined fellow award recipients Shania Twain, Halsey, Meghan Trainor, and Alessia Cara at the event.
In a blunt and candid speech, Madonna opened up about how across her career she's been subjected to an almost constant stream of abuse, and addressed the double standards she's encountered in the industry.
Opening her speech wth a quip, the iconic singer said, "I stand before you as a doormat…Oh, I mean as a female entertainer.
"Thank you for acknowledging my ability to continue my career for 34 years in the face of blatant sexism and misogyny and constant bullying and relentless abuse." 
Rather than fill the speech with platitudes and acknowledgements of thanks, Madonna laid her soul open, touching on her early life in New York where she was raped on rooftop with "a knife to my throat" and her friends were dying of AIDS. 
"In the first year I was held at gunpoint, raped on a rooftop with a knife digging into my throat and I had my apartment broken into and robbed so many times I stopped locking the door," she said. "In the years that followed, I lost almost every friend I had to AIDS or drugs or gunshots."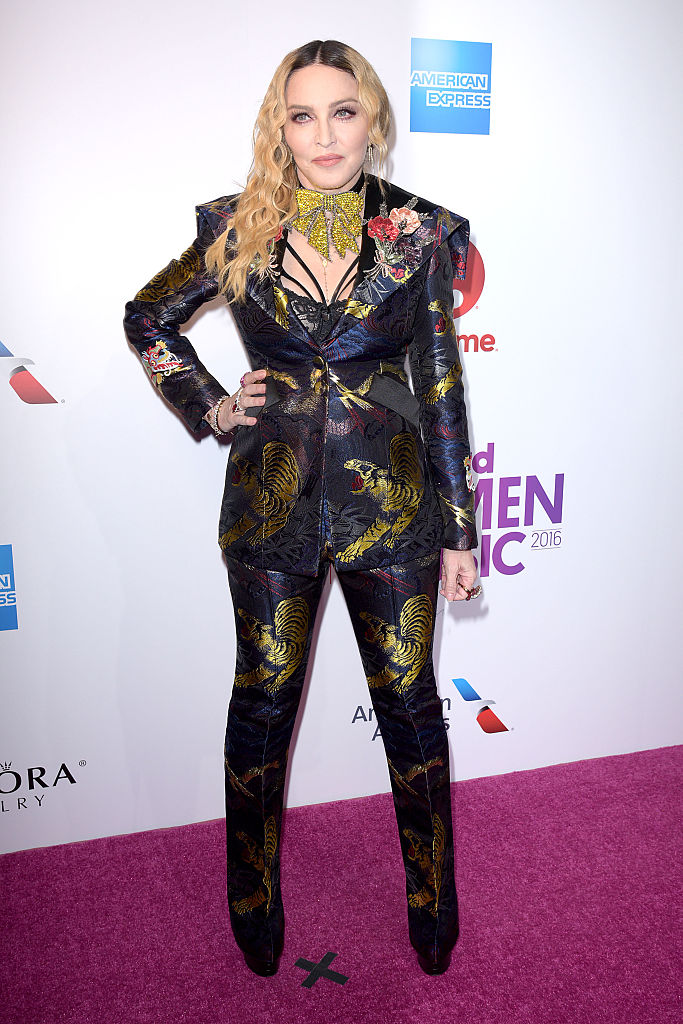 Explaining how she was inspired by the late David Bowie, the singer told how it was then that she became aware of the relentless double standards in the entertainment industry. "[Bowie] made me think there were no rules," she said. "But I was wrong. There are no rules — if you're a boy. There are rules if you're a girl." 
"If you're a girl, you have to play the game," she continued. "You're allowed to be pretty and cute and sexy. But don't act too smart. Don't have an opinion that's out of line with the status quo. You are allowed to be objectified by men and dress like a slut, but don't own your sluttiness. And do not, I repeat do not, share your own sexual fantasies with the world. Be what men want you to be, but more importantly, be what women feel comfortable with you being around other men. And finally, do not age. Because to age is a sin. You will be criticized and vilified and definitely not played on the radio."
While her marriage to Sean Penn in 1985 meant that some of the press scrutiny was lightened, Madonna told how, once she'd split with the actor, and after releasing her 1992 album Erotica and her Sex book, she was hounded by a constant stream of abuse.
"Everything I read about myself was damning. I was called a whore and a witch. One headline compared me to Satan," she said, tearfully. "I said, 'Wait a minute, isn't Prince running around with fishnets and high heels and lipstick with his butt hanging out?' Yes, he was. But he was a man.
"This was the first time I truly understood women do not have the same freedom as men."
https://www.youtube.com/watch?v=WyhdvRWEWRw?feature=oembed
Madonna, who is now the highest grossing female touring artist in history, also spoke about how she was blasted by feminist writer Camille Paglia, who claimed that Madonna's overt sexuality and self-objectification was damaging to what being a feminist meant. Instead, the singer told, she decided to become "a different kind of feminist…a bad feminist."
Then Madonna hit the nail on the head.
"I think the most controversial thing I have ever done is to stick around. Michael is gone. Tupac is gone. Prince is gone. Whitney is gone. Amy Winehouse is gone. David Bowie is gone. But I'm still standing. I'm one of the lucky ones and every day I count my blessings," she said.
Closing up her speech, Madonna spoke of how women need to support each other and how there are good men out there worth supporting, but this should be because they're worthy and not because they're men. She then went on to thank her fans for their support before turning her eye to her critics.
"[T]o the doubters and naysayers and everyone who gave me hell and said I could not, that I would not or I must not," she said, "your resistance made me stronger, made me push harder, made me the fighter that I am today. It made me the woman that I am today. So thank you."
We're so grateful to have inspirational, powerful, and talented women like Madonna in our lives.
Billboard's Women In Music airs December 12th on Lifetime.