Madonna shared her thoughts on the French election, and made a great point about ageism at the same time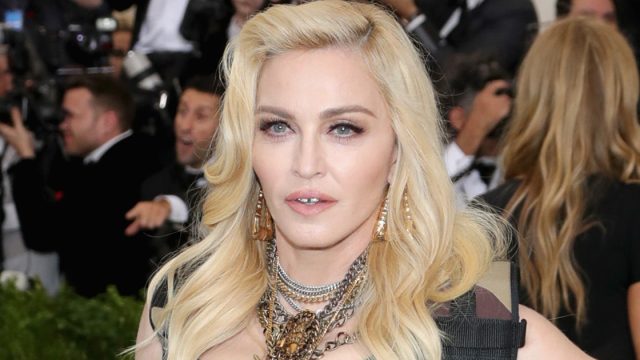 If there's one thing we've come to learn from the Queen of Pop, it's that she's not afraid to make a statement, and Madonna's latest Instagram post about the French election only proves this point further.
Yesterday, it was announced that Emmanuel Macron had won the French presidential election. The 39-year-old became the youngest person to become France's leader since Napoleon Bonaparte, the infamous French emperor, beating out the far-right candidate Marine Le Pen.
Of course, celebrities have reacted to the news, with the likes of Chris Evans, Josh Gad, Cher, Katy Perry, and Madonna all sharing their excitement at the election results in the country.
Indeed, Madonna was so excited about the news that she shared a few videos onto social media.
The legendary singer shared a clip of her children and their friends having a celebratory dance at the news. Seriously, check out how adorable it is, especially how the singer's newly adopted twins are getting in on the action.
The singer also shared a Boomerang video on Instagram of the kids jumping for joy at the news.
Madonna also took to social media to make an important point, and we can't stop applauding what she said.
In a post, the singer shared a picture of Emmanuel Macron and his wife, Brigitte Marie-Claude Macron, and highlighted one difference about the way that the French talk about their relationship. Or, more specifically, how people don't seem to care about the age difference between the two.
"Congrats to Emmanuel and Brigitte Macron. 🇫🇷🇫🇷 !!!!!" Madonna wrote. "Fun Fact for Monday is that the first Lady of France is 24 yrs older than her husband and no one in France seems to care about their age difference nor insisted that Brigitte 'Act her Age' 😂🎉👍🏻🙌🏻🙌🏻🇫🇷🇫🇷♥️Vive La France!"
This isn't the first time that Madonna has taken aim at the way that people talk about getting older. In a recent interview with Billboard after receiving their Woman of the Year prize, the star talked about how ageism was almost solely aimed at women, saying, "I don't ever think about my age until someone says something about it." 
The move comes after the singer shared some pictures over the weekend of herself rocking her birthday suit (and she looks pretty amazing, tbh).
One thing that we love about Madonna is her willingness to speak up and shut down any sexist discussion when it comes to age. As she has said in the past, it's her life and her age, and she can act anyway that she wants.
Seriously, don't ever change Madonna!