Madonna opened up about her emotional journey to adopt daughter Mercy James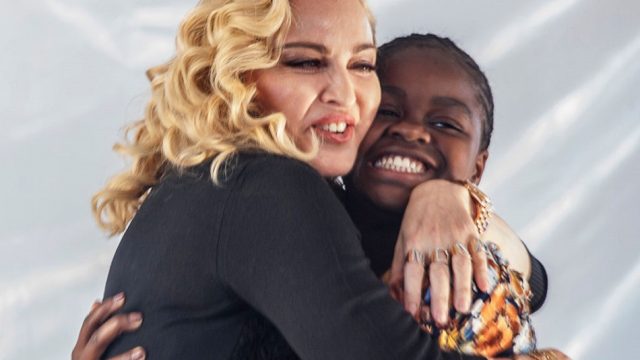 Even when you're a celebrity, adoption is quite a tricky process. During an opening ceremony for Malawi's very first pediatric surgery and intensive care center, Madonna discussed the difficulty of adopting Mercy James, her daughter, from the country roughly eight years ago. Now a happy and healthy 11-year-old, Mercy James seems thankful that her mom continued to fight for well over three years to call her her own.
The speech was especially powerful because Madonna named the care center after Mercy. The Mercy James Institute for Pediatric Surgery and Intensive Care will make a huge difference for those who need medical care.
Madonna met Mercy after adopting her son, David Banda, from the country in 2006.
"I met Mercy soon after I met my son David, but they were living in different orphanages," Madonna said. "David was in Mchinji in Home of Hope, and Mercy was here in Blantyre at Kondanani. Mercy was suffering from malaria, and David from pneumonia. And when I held each of them in my arms, I whispered in their ears, that I would look after them. And I promised them that they would grow up into strong and healthy adults."
And she definitely kept that promise. Adopting Mercy proved to be a bit difficult, since at the time the pop icon was going through her divorce with Guy Ritchie.
"[The judge] informed me, as a divorced woman, I was not fit to raise children and that Mercy James was better off growing up in an orphanage," Madonna said.
Obviously, that's not true. And Madonna, being the strong woman she is, didn't take no for an answer. Instead, she hired lawyers and took the case to the supreme court.
Madonna noted a huge roadblock was Malawi's laws that hadn't been changed since the 1940's, and these days, everyone knows that single women are capable of — well — anything and everything.
As you now know, Madonna won that battle. And she credited the fact that she never gave up on her dream.
"I never gave up. And I never backed down. And I believe that if you want something badly enough in life, the universe will conspire to help you get it. It may not be exactly when you want it, it may not come exactly when you think it's gonna come. It may not come in the package that you want it. But if you persevere, you will win," Madonna emphasized.
Those are solid words to remember when facing any obstacle.