Madonna just made her stand-up debut at an Amy Schumer show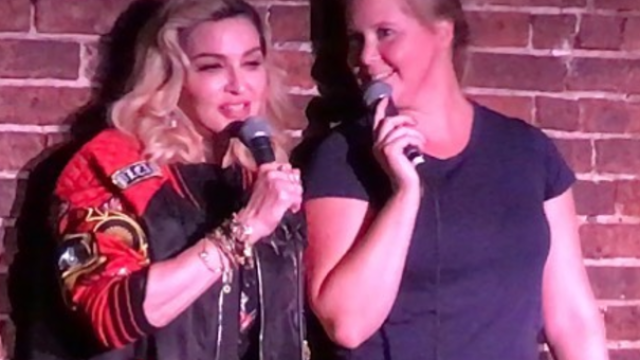 When you think of comedian, you probably don't think of Madonna — but the iconic singer just made her debut on stage. Madonna joined Amy Schumer's comedy set at the Comedy Cellar, and it sounds like it was an experience like no other.
For those unfamiliar with the Comedy Cellar, it's a pretty legendary spot for both well known comics and up-and-comers. Throughout New York City, it's known as one of the most popular clubs for both the talent and the guests fortunate enough to be in attendance.
Last night, a few A-listers made an appearance, including Aziz Ansari, Louis C.K., and Jon Stewart. So we can only imagine how much more incredible it was to see Madonna join Schumer.
We're sure the duo was met with a ton of applause.
Both the singer and Schumer herself posted photos of the big debut. You can tell that it was a huge moment for both of them.
We're just sad that as of right now, there's no video. What kind of jokes does Madonna tell? We need to know!
While it's somewhat of a shock to see them together, we shouldn't be too surprised. After all, the two stars have worked together at least twice before. Back in 2015, Schumer joined Madonna on her Rebel Heart tour — and at a packed show at Madison Square Garden last year, Madonna was the one who introduced Schumer on stage.
Fingers crossed that Schumer's next comedy special includes a few moments with Madonna. That is, if the singer doesn't already have a special lined up for herself already.