Madonna has halted the auction of her personal items, including *that* letter from Tupac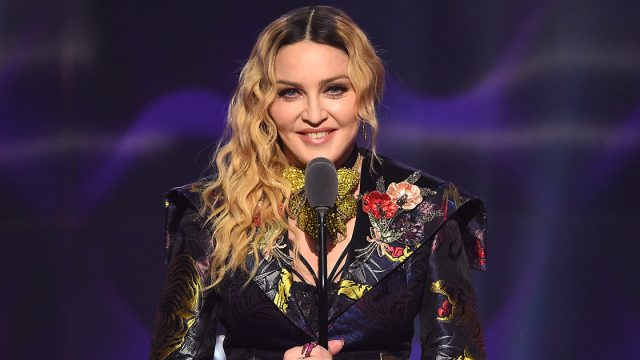 After some of her personal belongings were placed up for auction, Madonna has taken legal action to halt the sale. 
The sale included a letter from the late rapper Tupac Shakur written to the pop singer in the '90s. In the letter, Tupac apologized for breaking up with Madonna after the pair dated between 1993 and 1995, with the hip hop legend suggesting that their relationship came to an end because their contrasting images and racial differences.
"For you to be seen with a black man wouldn't in any way jeopardise your career, if anything it would make you seem more open and exciting," the letter purportedly reads. "But for me, at least in my previous perception I felt due to my 'image' I would be letting down half of the people who made me what I thought I was. I never meant to hurt you."
Alongside the letter were a pair of the singer's worn panties and a hairbrush.
Madonna has since filed successful legal action to halt the auction of these personal belongings.
In court papers, the 58-year-old music icon expressed her horror that such a sale could go forward.
"The fact that I have attained celebrity status as a result of success in my career does not obviate my right to maintain my privacy, including with regard to highly personal items," she said via legal documents. "I understand that my DNA could be extracted from a piece of my hair. It is outrageous and grossly offensive that my DNA could be auctioned for sale to the general public."
According to The Independent, the legal documents suggested that the letter from Tupac could reach up to $400,000 at auction. The documents also name a "former friend" of the singer, Manhattan art consultant Darlene Lutz, as the persons who placed the articles up for auction without the Queen of Pop's permission.
However, a spokesperson for Lutz has stated that the allegations would be contested.
"Madonna and her legal army have taken what we believe to be completely baseless and meritless action to temporarily halt the sale of Ms. Lutz's legal property," spokesman Pete Siegel told the New York Post. "We are confident that the Madonna memorabilia will be back."
As Page Six have noted, a hearing is slated for September.