Madonna's Aretha Franklin tribute at the 2018 VMAs is getting a ton of backlash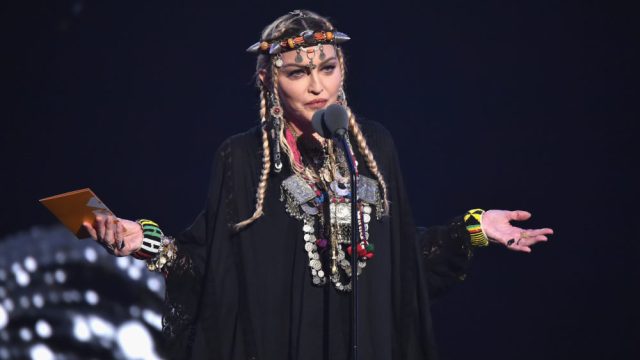 Madonna gave an Aretha Franklin tribute at the 2018 VMAs Monday night, August 20th, and it didn't exactly sit well with fans of the late Queen of Soul. Many viewers took issue—both with the content of Madonna's speech and with MTV's decision to let a white woman deliver it.
Instead of chronicling Franklin's career and her influence on the world, Madonna dove into a story about how the singer inspired her own personal journey—and humble-bragged about her own talent in the process.
Madonna told the audience that she once sang Franklin's "(You Make Me Feel Like) A Natural Woman" when she was unprepared for an audition and ended up wowing the judges, recalling that they didn't believe some "skinny-ass white girl" could pull it off. She credited Franklin (kind of?) with helping her find success.
"She led me to where I am today, and I know she influenced so many people in this room tonight," she concluded, "I want to thank you for empowering all of us. R-E-S-P-E-C-T."
The Twitterverse was quick to point out the self-involved nature of the pop star's words.
false
Many pointed out that a person of color would have been better suited to pay tribute to the legendary singer.
Valid points all around.
Of course, the VMAs weren't all about controversy. Ariana Grande brought her mother and grandmother onstage for an empowering performance of "God Is A Woman."
There was also Kylie Jenner's sweet little sway while Travis Scott performed. (And yes, the internet is currently obsessed with this moment.)
Cardi B created (hilarious) drama by making the audience believe she was holding baby Kulture on stage.
Even husband Offset was tricked.
It was definitely an evening to remember…