Madonna opened for Amy Schumer and then had the most baller hang sesh after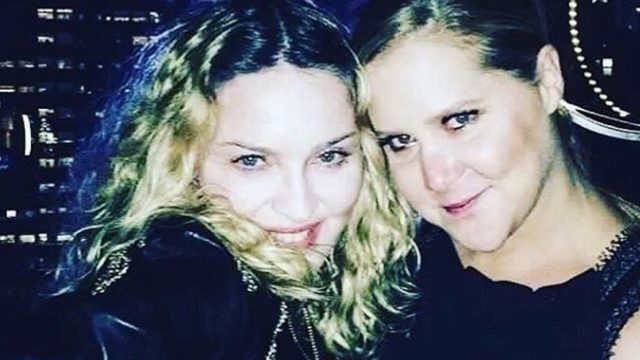 Amy Schumer performed again at Madison Square Garden and, as expected, it was totally epic. The superstar comedian had a line up of absolutely incredible acts that helped to make the night truly unforgettable. And last night she just upped her game big time by having one of the biggest stars on the planet share the stage with her.
Between the screams of the crowd and the happy dancing in their shared social media videos, these two performers definitely know how to have a good time onstage.
Of course, we're not at all surprised that these two amazing women get along famously. Thisisn't the first time they've shared that very stage together. Back in 2015, Amy opened for Madonna's "Rebel Heart" tour and actually announced her first solo performance at Madison Square Garden, which makes this performance even more special.
And since they're both big fans of supporting other women in entertainment, we're sure they had lots to talk about offstage.
They hung out with an impressive group of people after the show. And, like the hilarious entertainers they are, they took on point group shots that showed us all how much fun they had.
As if the night could get any more delightful, Madonna, Amy, and a bunch of other awesome women decided to build a human pyramid at one point.
Even though it was a huge night for the comedian and crew, Amy's tour is far from over. She will continue to travel nationally and internationally through the end of the year bringing her hilarity all over the world. And while there's no word as to whether or not Madonna will be joining her again onstage, it's safe to say the rest of Amy's shows will undoubtedly be filled with tons of hilarious jokes and fun surprises at every turn.