Madewell Just Dropped the Perfect Spring Sneakers—and They're Sustainable, Too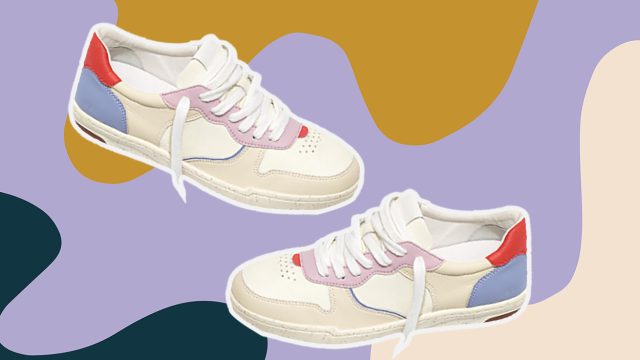 Spring is in the air, people. That means many days of birds chirping, flowers blossoming, and long walks around the neighborhood are in store. To embrace this oncoming warm weather we've totally earned, we need a pair of shoes that will make us look good and feel good while soaking in spring. Enter: Madewell's The Court Sneaker.
The Court Sneaker from Madewell combines everything we look for in a staple pair of shoes: style, comfort, and sustainability. Made of recycled rubber, leather, and cotton, the Court Sneaker is eco-conscious; the laces are made with cotton farmed under the Better Cotton Initiative for a reduced environmental footprint, and the outsoles are made from 40% recycled rubber and 10% rice husks. So, not only will you look good while wearing these classic kicks, but you can feel good knowing you're doing your part to help the environment, too.
To clarify, when we say "feel good," we don't just mean on the inside—the Court Sneaker is ultra-cushiony so that you don't have to sacrifice comfort for style. To make matters even better, you can choose between four unique colors: an earthy mix of tans and greens, bright pinks and blues, classic cream, or a splash of snakeskin.
Did we just meet our new favorite spring sneakers? We think yes. Here are the sneakers and how we would style them:
1. Earth tones
Splashes of tan, beige, and green make these earth-toned sneakers seasonally versatile. We can already see ourselves strutting around in skirts in the summer and jeans in the fall with these babies on our feet.
2. Pops of color
These red, pink, and lavender sneakers have us dreaming of cotton candy and sunsets in spring and summer. Pair these with a white sundress and denim jacket, and you'll be up for anything.
3. Monochrome white
Say hello to your new favorite sneakers. Morning, noon, and night, these kicks do the trick. Dress them up with a maxi skirt for brunch or down with leggings while you run errands.
4. All about texture
If you're feeling a little wild, opt for these pink and snakeskin-splashed sneakers. The print adds a dash of interest, but is still subtle enough for everyday wear. Keep your outfit simple and let these shoes do the talking.
Shop all Madewell sneakers here.