Maddie Poppe won American Idol (and is officially dating the runner up!)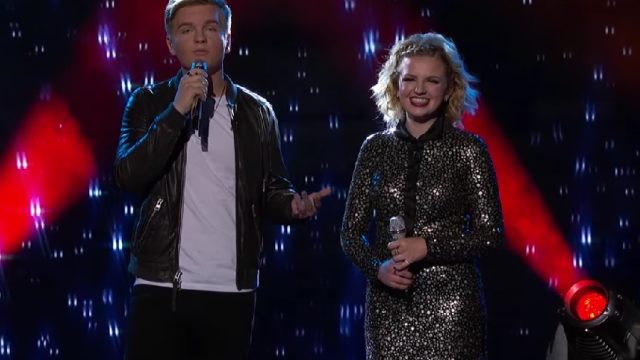 Many congrats are in order for Maddie Poppe! The singer was crowned the winner of American Idol on the May 21st finale, and revealed a major secret before the big announcement. She's been dating runner up Caleb Lee Hutchinson, making our Idol-loving hearts go awww.
This wasn't a huge surprise to some fans, who had suspected something was up. Country radio personality Bobby Bones, who appeared on the series as a mentor (and sent out some live-tweets during the episode) even tweeted "I TOLD YOU THEY WERE DATING," after the big reveal.
Host Ryan Seacrest helped tease the information out of the couple before they sang a duet together.
"The country has fallen in love with the two of you," Seacrest said. "I know the song that's coming up. I'm just wondering, is there a special significance to the song, Caleb, when you sing it with Maddie?"
That was the moment Hutchinson revealed how close the two  really are.
"Well, you know, Maddie's like my best pal. I've known her since the beginning of Hollywood Week, and you know, she, uh — she actually happens to be my girlfriend," he admitted.
https://www.youtube.com/watch?v=80C8bWedLm0?feature=oembed
Hutchinson gave Poppe the most supportive hug when she won, and we can literally see the love and adoration in his eyes.
https://www.youtube.com/watch?v=wI89nVn6LHk?feature=oembed
Surprisingly enough, Hutchinson and Poppe may not be the only American Idol contestants to find love this season. Cade Foehner and Gabby Barrett were also rumored to be linked. Tinder better watch its back, since American Idol may very well be the next best way to meet someone.