This "Mad Men" reunion is extremely cute, and it's making us miss the Drapers more than ever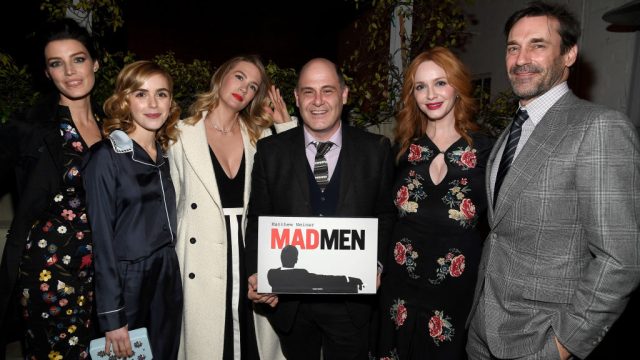 We know, we know, it's not good to live in the past, but a Mad Men reunion this week made us sort of, kind of miss the Draper family and all of their drama. The reunion took place at a launch party for a new Mad Men-themed Taschen coffee table book.
All the best characters were there: Jon Hamm, January Jones, Christina Hendricks, Jessica Pare, and Kiernan Shipka. (Shipka, by the way, nailed the whole pajamas-as-party-clothes look.) It looked like they were enjoying all being in the same room together just as much as we loved seeing them. January Jones, Mrs. Betty Draper herself, took a selfie with Shipka and Hendricks and captioned it, "My girls!! And one Matt Weiner!," since the creator and showrunner photobombed them.
They all look so happy. The book is a two volume collection of stills from the show, script excerpts, BTS highlights, and interviews with Weiner and Hamm. There are also Wiener's notes that go all the way back to 1992 and a vow that by the end of the collection, fans of the show will "get" where the idea of epic AMC drama came from. Although there's no promise that you'll have figured out what the finale means, but we'll take it.
Are they all wearing the same lipstick?
Weiner said of the book,
"[Taschen] knows how to make a book. And I was really interested in what they thought was important about the show and what they thought would be an experience — not only for people who love the show and wanted to see it slowed down and frozen in time, but also for people who don't know the show at all. So you can almost get a pure aesthetic experience.
Weiner also said that he misses the show as much as its die-hard fans do, but he has no plans to to a spin-off, though rumors have circulated about one. He said back in 2015, "I'm not judging people who do spin-offs, but despite the temptation and I love these characters and love working with these people, I'd like to leave the show the way it is."
The fam.
https://www.instagram.com/p/BQ5vvL0lVCn
That doesn't mean the network didn't try.
"There was sort of a demand during one of my contract negotiations that along with a lot of other things that I do a spin-off as well. I just said no to all of it."
As much we do sort of miss those Sunday night tweet-fests with the rest of the world, we sort of agree with him. If you miss Mad Men that much, just get the book.