Macy's has over 200,000 markdowns this weekend—these are the 21 things we're shopping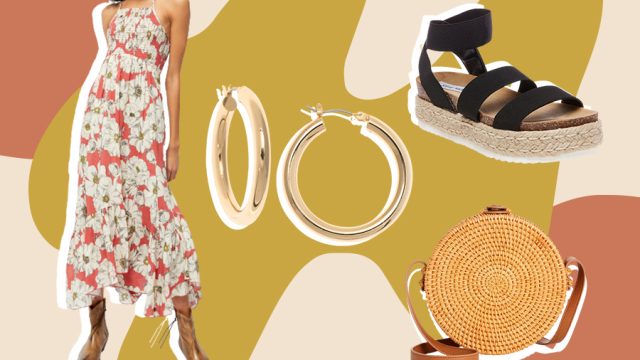 Although some of Macy's brick and mortar stores are closing their doors, the retailer's online deals aren't going away anytime soon. Case in point: the Macy's Friends and Family sale happening now through June 21st. For the next ten days, enjoy 30% off of over 200,000 items, including over 14,000 women's fashion pieces—from clothing to shoes to accessories. Hello, summer style revamp.
Summer is officially in full swing, which means we're updating our closets with the season's latest trends, from tie-dye sets to bike shorts to straw bags. And luckily for us, Macy's is offering all of the latest trends at slashed prices, so we don't have to feel guilty while snagging some summer must-haves. Choose between thousands of killer deals and simply enter code FRIEND at checkout for 30% off of your chosen items.
With so many stylish choices, we narrowed down the 21 top options for you to shop. Below, shop the best clothing, shoes, and accessories deals at the Macy's Friends and Family sale.
Best clothing deals from the Macy's Friends and Family sale:
[stylized_links related_links="%3Cp%3E%3Ca%20href%3D%22https%3A%2F%2Fclick.linksynergy.com%2Fdeeplink%3Fid%3D93xLBvPhAeE%26amp%3Bmid%3D3184%26amp%3Bmurl%3Dhttps%253A%252F%252Fwww.macys.com%252Fshop%252Fproduct%252Ffree-people-heatwave-printed-maxi-dress%253FID%253D10786628%26amp%3Bu1%3DHG%252CMacy%25E2%2580%2599shasover200%252C000markdownsthisweekend%25E2%2580%2594thesearethe21thingswe%25E2%2580%2599reshopping%252CClaireHarmeyer%252C%252CPos%252C2647651%252C202006%252CI%22%20rel%3D%22nofollow%22%3EFree%20People%20Heatwave%20Printed%20Maxi%20Dress%3C%2Fa%3E%2C%20%2460.48%20with%20code%20FRIEND%20%28orig.%20%24108%29%3C%2Fp%3E%3Cp%3E%3Ca%20href%3D%22https%3A%2F%2Fclick.linksynergy.com%2Fdeeplink%3Fid%3D93xLBvPhAeE%26amp%3Bmid%3D3184%26amp%3Bmurl%3Dhttps%253A%252F%252Fwww.macys.com%252Fshop%252Fproduct%252Fcalvin-klein-jeans-cuffed-denim-shorts%253FID%253D10559023%26amp%3Bu1%3DHG%252CMacy%25E2%2580%2599shasover200%252C000markdownsthisweekend%25E2%2580%2594thesearethe21thingswe%25E2%2580%2599reshopping%252CClaireHarmeyer%252C%252CPos%252C2647651%252C202006%252CI%22%20rel%3D%22nofollow%22%3ECalvin%20Klein%20Jeans%20Cuffed%20Denim%20Shorts%3C%2Fa%3E%2C%20%2427.99%20with%20code%20FRIEND%20%28orig.%20%2449.50%29%3C%2Fp%3E%3Cp%3E%3Ca%20href%3D%22https%3A%2F%2Fclick.linksynergy.com%2Fdeeplink%3Fid%3D93xLBvPhAeE%26amp%3Bmid%3D3184%26amp%3Bmurl%3Dhttps%253A%252F%252Fwww.macys.com%252Fshop%252Fproduct%252Fstyle-co.-denim-jacket-in-regular-petite-created-for-macys%253FID%253D2351365%26amp%3Bu1%3DHG%252CMacy%25E2%2580%2599shasover200%252C000markdownsthisweekend%25E2%2580%2594thesearethe21thingswe%25E2%2580%2599reshopping%252CClaireHarmeyer%252C%252CPos%252C2647651%252C202006%252CI%22%20rel%3D%22nofollow%22%3EStyle%20%26amp%3B%20Co%20Denim%20Jacket%3C%2Fa%3E%2C%20%2431.23%20with%20code%20FRIEND%20%28orig.%20%2459.50%29%3C%2Fp%3E%3Cp%3E%3Ca%20href%3D%22https%3A%2F%2Fclick.linksynergy.com%2Fdeeplink%3Fid%3D93xLBvPhAeE%26amp%3Bmid%3D3184%26amp%3Bmurl%3Dhttps%253A%252F%252Fwww.macys.com%252Fshop%252Fproduct%252Ftommy-hilfiger-cropped-cargo-pants%253FID%253D10566289%26amp%3Bu1%3DHG%252CMacy%25E2%2580%2599shasover200%252C000markdownsthisweekend%25E2%2580%2594thesearethe21thingswe%25E2%2580%2599reshopping%252CClaireHarmeyer%252C%252CPos%252C2647651%252C202006%252CI%22%20rel%3D%22nofollow%22%3ETommy%20Hilfiger%20Cropped%20Cargo%20Pants%3C%2Fa%3E%2C%20%2438.96%20with%20code%20FRIEND%20%28orig.%20%2479.50%29%3C%2Fp%3E%3Cp%3E%3Ca%20href%3D%22https%3A%2F%2Fclick.linksynergy.com%2Fdeeplink%3Fid%3D93xLBvPhAeE%26amp%3Bmid%3D3184%26amp%3Bmurl%3Dhttps%253A%252F%252Fwww.macys.com%252Fshop%252Fproduct%252Fdanielle-bernstein-puff-sleeve-mini-dress-created-for-macys%253FID%253D10510158%26amp%3Bu1%3DHG%252CMacy%25E2%2580%2599shasover200%252C000markdownsthisweekend%25E2%2580%2594thesearethe21thingswe%25E2%2580%2599reshopping%252CClaireHarmeyer%252C%252CPos%252C2647651%252C202006%252CI%22%20rel%3D%22nofollow%22%3EDanielle%20Bernstein%20Puff%20Sleeve%20Mini%20Dress%3C%2Fa%3E%2C%20%2437.38%20with%20code%20FRIEND%20%28orig.%20%2489%29%3C%2Fp%3E%3Cp%3E%3Ca%20href%3D%22https%3A%2F%2Fclick.linksynergy.com%2Fdeeplink%3Fid%3D93xLBvPhAeE%26amp%3Bmid%3D3184%26amp%3Bmurl%3Dhttps%253A%252F%252Fwww.macys.com%252Fshop%252Fproduct%252Ffree-people-effortless-t-shirt%253FID%253D10489827%26amp%3Bu1%3DHG%252CMacy%25E2%2580%2599shasover200%252C000markdownsthisweekend%25E2%2580%2594thesearethe21thingswe%25E2%2580%2599reshopping%252CClaireHarmeyer%252C%252CPos%252C2647651%252C202006%252CI%22%20rel%3D%22nofollow%22%3EFree%20People%20Effortless%20T-Shirt%3C%2Fa%3E%2C%20%2425.50%20with%20code%20FRIEND%20%28orig.%20%2448%29%3C%2Fp%3E%3Cp%3E%3Ca%20href%3D%22https%3A%2F%2Fclick.linksynergy.com%2Fdeeplink%3Fid%3D93xLBvPhAeE%26amp%3Bmid%3D3184%26amp%3Bmurl%3Dhttps%253A%252F%252Fwww.macys.com%252Fshop%252Fproduct%252Fstyle-co-lace-up-t-shirt-dress-created-for-macys%253FID%253D7953737%26amp%3Bu1%3DHG%252CMacy%25E2%2580%2599shasover200%252C000markdownsthisweekend%25E2%2580%2594thesearethe21thingswe%25E2%2580%2599reshopping%252CClaireHarmeyer%252C%252CPos%252C2647651%252C202006%252CI%22%20rel%3D%22nofollow%22%3EStyle%20%26amp%3B%20Co%20Lace-Up%20T-Shirt%20Dress%3C%2Fa%3E%2C%20%2425.98%20with%20code%20FRIEND%20%28orig.%20%2449.50%29%3C%2Fp%3E" /]
Best shoes deals from the Macy's Friends and Family sale:
[stylized_links related_links="%3Cp%3E%3Ca%20href%3D%22https%3A%2F%2Fclick.linksynergy.com%2Fdeeplink%3Fid%3D93xLBvPhAeE%26amp%3Bmid%3D3184%26amp%3Bmurl%3Dhttps%253A%252F%252Fwww.macys.com%252Fshop%252Fproduct%252Fsteve-madden-womens-kimmie-flatform-espadrille-sandals%253FID%253D4684246%26amp%3Bu1%3DHG%252CMacy%25E2%2580%2599shasover200%252C000markdownsthisweekend%25E2%2580%2594thesearethe21thingswe%25E2%2580%2599reshopping%252CClaireHarmeyer%252C%252CPos%252C2647651%252C202006%252CI%22%20rel%3D%22nofollow%22%3ESteve%20Madden%20Women%27s%20Kimmie%20Flatform%20Espadrille%20Sandals%3C%2Fa%3E%2C%20%2448.30%20with%20code%20FRIEND%20%28orig.%20%2469%29%3C%2Fp%3E%3Cp%3E%3Ca%20href%3D%22http%3A%2F%2FThe%2520URL%2520you%2520specified%2520is%2520restricted%2520from%2520deep%2520linking%2520by%2520the%2520Advertiser.%26amp%3Bu1%3DHG%252CMacy%25E2%2580%2599shasover200%252C000markdownsthisweekend%25E2%2580%2594thesearethe21thingswe%25E2%2580%2599reshopping%252CClaireHarmeyer%252C%252CPos%252C2647651%252C202006%252CI%22%20rel%3D%22nofollow%22%3ECOACH%20Women%27s%20Jeri%20Leather%20Sandals%3C%2Fa%3E%2C%20%2470%20with%20code%20FRIEND%20%28orig.%20%24100%29%3C%2Fp%3E%3Cp%3E%3Ca%20href%3D%22https%3A%2F%2Fclick.linksynergy.com%2Fdeeplink%3Fid%3D93xLBvPhAeE%26amp%3Bmid%3D3184%26amp%3Bmurl%3Dhttps%253A%252F%252Fwww.macys.com%252Fshop%252Fproduct%252Ftommy-hilfiger-womens-lightz-lace-up-fashion-sneakers%253FID%253D6594247%26amp%3Bu1%3DHG%252CMacy%25E2%2580%2599shasover200%252C000markdownsthisweekend%25E2%2580%2594thesearethe21thingswe%25E2%2580%2599reshopping%252CClaireHarmeyer%252C%252CPos%252C2647651%252C202006%252CI%22%20rel%3D%22nofollow%22%3ETommy%20Hilfiger%20Women%27s%20Lightz%20Lace-Up%20Fashion%20Sneakers%3C%2Fa%3E%2C%20%2441.30%20with%20code%20FRIEND%20%28orig.%20%2459%29%3C%2Fp%3E%3Cp%3E%3Ca%20href%3D%22https%3A%2F%2Fclick.linksynergy.com%2Fdeeplink%3Fid%3D93xLBvPhAeE%26amp%3Bmid%3D3184%26amp%3Bmurl%3Dhttps%253A%252F%252Fwww.macys.com%252Fshop%252Fproduct%252Finc-womens-makenna-two-piece-dress-sandals-created-for-macys%253FID%253D10473407%26amp%3Bu1%3DHG%252CMacy%25E2%2580%2599shasover200%252C000markdownsthisweekend%25E2%2580%2594thesearethe21thingswe%25E2%2580%2599reshopping%252CClaireHarmeyer%252C%252CPos%252C2647651%252C202006%252CI%22%20rel%3D%22nofollow%22%3EINC%20International%20Concepts%20Women%27s%20Makenna%20Two-Piece%20Dress%20Sandals%20in%20Clear%20Vinyl%3C%2Fa%3E%2C%20%2455.65%20with%20code%20FRIEND%20%28orig.%20%2479.50%29%3C%2Fp%3E%3Cp%3E%3Ca%20href%3D%22https%3A%2F%2Fclick.linksynergy.com%2Fdeeplink%3Fid%3D93xLBvPhAeE%26amp%3Bmid%3D3184%26amp%3Bmurl%3Dhttps%253A%252F%252Fwww.macys.com%252Fshop%252Fproduct%252Fcircus-by-sam-edelman-kennedy-two-piece-flatform-espadrilles%253FID%253D10513788%26amp%3Bu1%3DHG%252CMacy%25E2%2580%2599shasover200%252C000markdownsthisweekend%25E2%2580%2594thesearethe21thingswe%25E2%2580%2599reshopping%252CClaireHarmeyer%252C%252CPos%252C2647651%252C202006%252CI%22%20rel%3D%22nofollow%22%3ECircus%20by%20Sam%20Edelman%20Kennedy%20Two-Piece%20Flatform%20Espadrilles%3C%2Fa%3E%2C%20%2448.30%20with%20code%20FRIEND%20%28orig.%20%2469%29%3C%2Fp%3E%3Cp%3E%3Ca%20href%3D%22https%3A%2F%2Fclick.linksynergy.com%2Fdeeplink%3Fid%3D93xLBvPhAeE%26amp%3Bmid%3D3184%26amp%3Bmurl%3Dhttps%253A%252F%252Fwww.macys.com%252Fshop%252Fproduct%252Fkate-spade-new-york-jasmine-flip-flop-sandals%253FID%253D10440135%26amp%3Bu1%3DHG%252CMacy%25E2%2580%2599shasover200%252C000markdownsthisweekend%25E2%2580%2594thesearethe21thingswe%25E2%2580%2599reshopping%252CClaireHarmeyer%252C%252CPos%252C2647651%252C202006%252CI%22%20rel%3D%22nofollow%22%3EKate%20Spade%20New%20York%20Jasmine%20Flip-Flop%20Sandals%3C%2Fa%3E%2C%20%2433.60%20with%20code%20FRIEND%20%28orig.%20%2448%29%3C%2Fp%3E%3Cp%3E%3Ca%20href%3D%22https%3A%2F%2Fclick.linksynergy.com%2Fdeeplink%3Fid%3D93xLBvPhAeE%26amp%3Bmid%3D3184%26amp%3Bmurl%3Dhttps%253A%252F%252Fwww.macys.com%252Fshop%252Fproduct%252Fkeds-womens-champion-leather-oxford-sneakers%253FID%253D564802%26amp%3Bu1%3DHG%252CMacy%25E2%2580%2599shasover200%252C000markdownsthisweekend%25E2%2580%2594thesearethe21thingswe%25E2%2580%2599reshopping%252CClaireHarmeyer%252C%252CPos%252C2647651%252C202006%252CI%22%20rel%3D%22nofollow%22%3EKeds%20Women%27s%20Champion%20Leather%20Oxford%20Sneakers%3C%2Fa%3E%2C%20%2438.50%20with%20code%20FRIEND%20%28orig.%20%2455%29%3C%2Fp%3E" /]
Best accessories deals from the Macy's Friends and Family sale:
[stylized_links related_links="%3Cp%3E%3Ca%20href%3D%22https%3A%2F%2Fclick.linksynergy.com%2Fdeeplink%3Fid%3D93xLBvPhAeE%26amp%3Bmid%3D3184%26amp%3Bmurl%3Dhttps%253A%252F%252Fwww.macys.com%252Fshop%252Fproduct%252Finc-aniqaa-rattan-circle-crossbody-created-for-macys%253FID%253D10566928%26amp%3Bu1%3DHG%252CMacy%25E2%2580%2599shasover200%252C000markdownsthisweekend%25E2%2580%2594thesearethe21thingswe%25E2%2580%2599reshopping%252CClaireHarmeyer%252C%252CPos%252C2647651%252C202006%252CI%22%20rel%3D%22nofollow%22%3EINC%20International%20Concepts%20Aniqaa%20Rattan%20Circle%20Crossbody%3C%2Fa%3E%2C%20%2441.73%20with%20code%20FRIEND%20%28orig.%20%2479.50%29%3C%2Fp%3E%3Cp%3E%3Ca%20href%3D%22https%3A%2F%2Fclick.linksynergy.com%2Fdeeplink%3Fid%3D93xLBvPhAeE%26amp%3Bmid%3D3184%26amp%3Bmurl%3Dhttps%253A%252F%252Fwww.macys.com%252Fshop%252Fproduct%252Flauren-ralph-lauren-medium-hoop-earrings%253FID%253D7757817%26amp%3Bu1%3DHG%252CMacy%25E2%2580%2599shasover200%252C000markdownsthisweekend%25E2%2580%2594thesearethe21thingswe%25E2%2580%2599reshopping%252CClaireHarmeyer%252C%252CPos%252C2647651%252C202006%252CI%22%20rel%3D%22nofollow%22%3ELauren%20Ralph%20Lauren%20Medium%20Hoop%20Earrings%3C%2Fa%3E%2C%20%2422.40%20with%20code%20FRIEND%20%28orig.%20%2432%29%3C%2Fp%3E%3Cp%3E%3Ca%20href%3D%22https%3A%2F%2Fclick.linksynergy.com%2Fdeeplink%3Fid%3D93xLBvPhAeE%26amp%3Bmid%3D3184%26amp%3Bmurl%3Dhttps%253A%252F%252Fwww.macys.com%252Fshop%252Fproduct%252Fguess-tangey-crossbody%253FID%253D10491983%26amp%3Bu1%3DHG%252CMacy%25E2%2580%2599shasover200%252C000markdownsthisweekend%25E2%2580%2594thesearethe21thingswe%25E2%2580%2599reshopping%252CClaireHarmeyer%252C%252CPos%252C2647651%252C202006%252CI%22%20rel%3D%22nofollow%22%3EGuess%20Tangey%20Crossbody%3C%2Fa%3E%2C%20%2438.08%20with%20code%20FRIEND%20%28orig.%20%2468%29%3C%2Fp%3E%3Cp%3E%3Ca%20href%3D%22https%3A%2F%2Fclick.linksynergy.com%2Fdeeplink%3Fid%3D93xLBvPhAeE%26amp%3Bmid%3D3184%26amp%3Bmurl%3Dhttps%253A%252F%252Fwww.macys.com%252Fshop%252Fproduct%252F2-pc.-set-cubic-zirconia-studs-twisted-hoop-earrings-in-10k-gold%253FID%253D2521860%26amp%3Bu1%3DHG%252CMacy%25E2%2580%2599shasover200%252C000markdownsthisweekend%25E2%2580%2594thesearethe21thingswe%25E2%2580%2599reshopping%252CClaireHarmeyer%252C%252CPos%252C2647651%252C202006%252CI%22%20rel%3D%22nofollow%22%3EMacy%27s%202-Pc.%20Set%20Cubic%20Zirconia%20Studs%20and%20Twisted%20Hoop%20Earrings%3C%2Fa%3E%2C%20%2452.50%20with%20code%20FRIEND%20%28orig.%20%24150%29%3C%2Fp%3E%3Cp%3E%3Ca%20href%3D%22https%3A%2F%2Fclick.linksynergy.com%2Fdeeplink%3Fid%3D93xLBvPhAeE%26amp%3Bmid%3D3184%26amp%3Bmurl%3Dhttps%253A%252F%252Fwww.macys.com%252Fshop%252Fproduct%252Fdkny-bryant-park-leather-top-zip-backpack-created-for-macys%253FID%253D8874605%26amp%3Bu1%3DHG%252CMacy%25E2%2580%2599shasover200%252C000markdownsthisweekend%25E2%2580%2594thesearethe21thingswe%25E2%2580%2599reshopping%252CClaireHarmeyer%252C%252CPos%252C2647651%252C202006%252CI%22%20rel%3D%22nofollow%22%3EDKNY%20Bryant%20Park%20Leather%20Top%20Zip%20Backpack%3C%2Fa%3E%2C%20%2469.30%E2%80%93%24110.88%20with%20code%20FRIEND%20%28orig.%20%24198%29%3C%2Fp%3E%3Cp%3E%3Ca%20href%3D%22https%3A%2F%2Fclick.linksynergy.com%2Fdeeplink%3Fid%3D93xLBvPhAeE%26amp%3Bmid%3D3184%26amp%3Bmurl%3Dhttps%253A%252F%252Fwww.macys.com%252Fshop%252Fproduct%252Finc-straw-fan-tote-created-for-macys%253FID%253D10530244%26amp%3Bu1%3DHG%252CMacy%25E2%2580%2599shasover200%252C000markdownsthisweekend%25E2%2580%2594thesearethe21thingswe%25E2%2580%2599reshopping%252CClaireHarmeyer%252C%252CPos%252C2647651%252C202006%252CI%22%20rel%3D%22nofollow%22%3EINC%20International%20Concepts%20Straw%20Fan%20Tote%3C%2Fa%3E%2C%20%2441.73%20with%20code%20FRIEND%20%28orig.%20%2479.50%29%3C%2Fp%3E%3Cp%3E%3Ca%20href%3D%22https%3A%2F%2Fclick.linksynergy.com%2Fdeeplink%3Fid%3D93xLBvPhAeE%26amp%3Bmid%3D3184%26amp%3Bmurl%3Dhttps%253A%252F%252Fwww.macys.com%252Fshop%252Fproduct%252Fguess-maddy-croc-embossed-slim-wallet%253FID%253D10491924%26amp%3Bu1%3DHG%252CMacy%25E2%2580%2599shasover200%252C000markdownsthisweekend%25E2%2580%2594thesearethe21thingswe%25E2%2580%2599reshopping%252CClaireHarmeyer%252C%252CPos%252C2647651%252C202006%252CI%22%20rel%3D%22nofollow%22%3EGuess%20Maddy%20Croc-Embossed%20Slim%20Wallet%3C%2Fa%3E%2C%20%2416.80%20with%20code%20FRIEND%20%28orig.%20%2440%29%3C%2Fp%3E" /]