MAC's Nutcracker Sweet Collection is the most whimsical and massive holiday set yet
It's that wonderful time of year when all our favorite beauty brands start letting us in on what they've been planning for the holidays! And let me tell you, our beloved MAC has something simply delightful up its sleeves! Think their magnetic makeup was rad? Their Nutcracker Sweet Collection is shaping up to be their most coveted holiday set yet!
"Leap into a magical land that's a bit nutty, a little naughty, and bursting with whimsy. Lose yourself in an eccentric kingdom of oversized treats and rosy-cheeked nutcrackers. Twist, turn and tumble deeper into the Land of Dolls."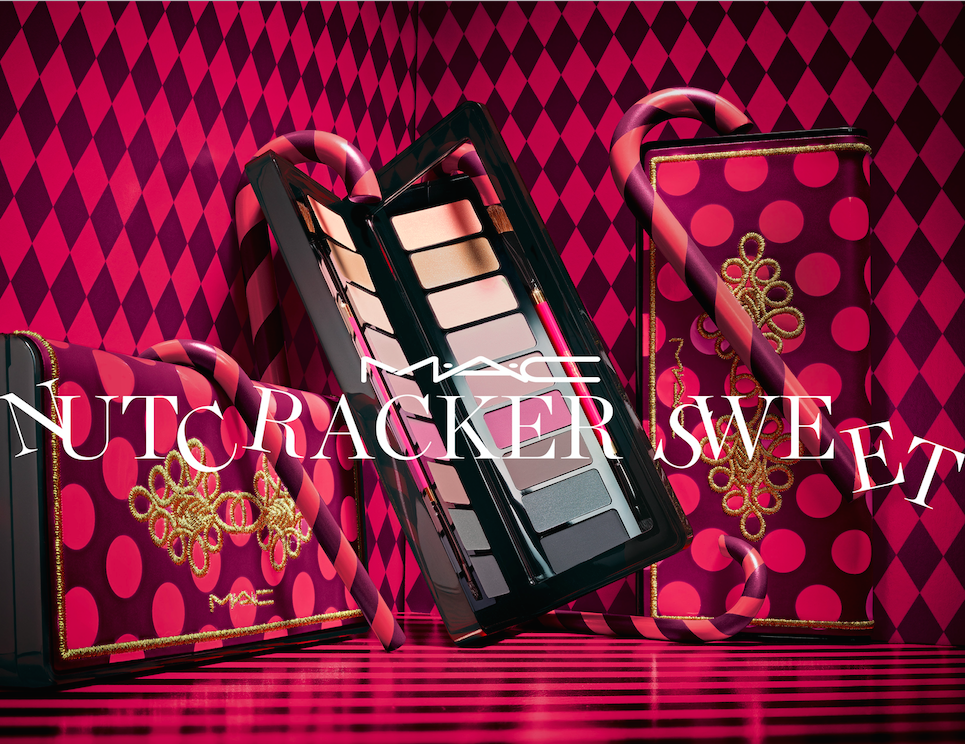 Well, we're sold on that! This collection of kits is one of the best they've ever released and have completely exceeded all our expectations. The 42-piece collection (yes, FORTY-TWO!!!) consists of:
The Nutcracker Sweet Red Lip Bag
This comes stocked with Vamplify Lipgloss in "Suggestive;" a lipstick in "Candy Cane;" and a Pro Longwear Lip Pencil in "Trust in Red," for $39.50.
Nutcracker Sweet Nude Lip Bag
Featuring Vamplify Lipgloss in "Tuned In;" a lipstick in "Magic Spell;" and a Pro Longwear Lip Pencil in "In Control" for $39.50.
Nutcracker Sweet Warm Eye Compact
Shades included are: Showstopper, a deep blackened brown; Twelve Chimes, a metallic deep cool brown; Beyond Gorgeous, a black with gold pearl; Unwind, a dirty olive; Lady Fingers, a true matte gold; Era, a shimmery golden beige; Woodwinked, a warm antique gold; Filament, a platinum silver; and Whirling, a metallic silver beige, for $39.50.
Nutcracker Sweet Cool Eye Compact
This includes the following shades: Enchanted Beauty, a pale pink shimmer; Absurdly Pretty, a matte raspberry; Plum Darling, a metallic charcoal plum; Performance Art, a mauve with silver pearl; Nutcracker, a deep, blackened purple; The Wrong Man, a pale, cool pink; Sugar Plum, a dirty grape; Marzipan, a muted, plummy taupe; and Quite Spoiled, a muted lilac. This also goes for $39.50.
Nutcracker Sweet Smoky Eye Compact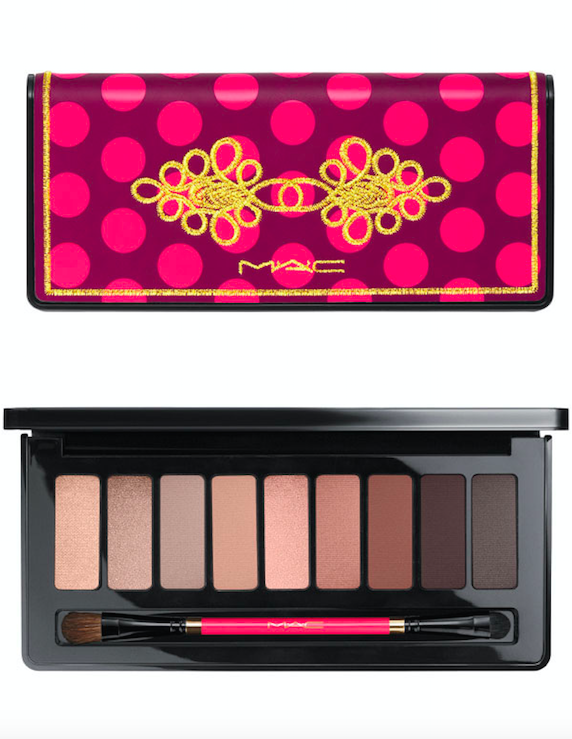 At the same price of $39.50, this palette includes Licorice Lane, a deep, blackened brown; Dance In The Dark, a deep, cool brown; Too-dle-oo, a light beige shimmer; Kid, a silky beige; Dewdrop, a bright apricot; Cake & Biscuits, a soft, peachy brown; Swiss Chocolate, a muted reddish-brown; Deception, a cool medium brown; and Sweet Dreams, a warm, mid-tone stone.
Nutcracker Sweet Peach Face Compact
This stunning highlighter and blush duo comes with Extra Dimension Skinfinish in Tutu, a whitish pink pearl, and Extra Dimension Blush in At Dusk, a warm rose, for $35.
Nutcracker Sweet Copper Face Compact
This includes Extra Dimension Skinfinish in Whisper of Gilt, a pale gold shimmer, and Extra Dimension Blush in Pleasure Model, a peachy brown, for $35.
Nutcracker Sweet Plug Eye Bag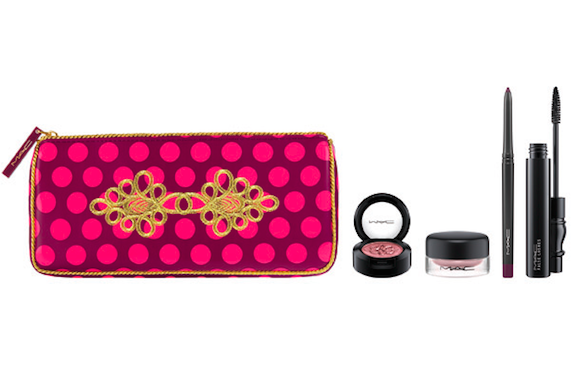 Comes with Extra Dimension Eye Shadow in Smoky Mauve, a pinkish, muted mauve; Technakohl Liner in Purple Dash, an intense aubergine; Pro Longwear Paint Pot in Stormy Pink, a muted gray-purple; and False Lashes Mascara in False Black. Make it yours for $42.50.
Nutcracker Sweet Smoky Eye Bag
Featuring Extra Dimension Eye Shadow in Fathoms Deep, a deep blue; Technakohl Liner in Graphblack, a rich, graphic black; Pro Longwear Paint Pot in Dream Scene, a frosted gray, and False Lashes Mascara in False Black. Available for $42.50.
Lipstick Kits
The Nutcracker Sweet Red Lipstick Kit includes classic Lady Danger, vivid bright coral-red; Diva, an intense reddish burgundy matte; Rebel, a cream plum; M∙A∙C Red,  vivid bright bluish-red for $35. If you're more of a nude lip, there's Nutcracker Sweet Nude Lipstick Kit, which comes with Whirl, a dirty rose; Nouvelle Vogue, soft blue pink; Kinda Sexy, a neutral pinky rose; and Crème Cup, light blue pink, for the same price.
Lip Glosses
There's the Nutcracker Sweet Nude Lip Gloss Kit, which contains Fashion Whim, a light beige; Nutty & Naughty, a mid-tone pinky brown; Pure Delight, a light coral nude; and Prancin' Dancin', a copper shimmer. The Sweet Red Lip Gloss Kit includes Galaxy Rose, a violet pink; Gumdrop, an intense cherry red; Courting Chic, a deep berry red with gold sparkles; and Phiff!, a sheer yellow peach. Both kits are $35.
Glitter Pigment
The Sweet Gold Pigment and Glitter Kit includes Heritage Rouge, a dirty brown plum; Reflects Rust, a sparkling warm red; English Gilt, a bright champagne; and, of course, Gold, a sparkling chunky gold. The Sweet Bronze Pigment and Glitter Kit includes Sugar Rush, a pale peach; Stardream, a metallic nude peach; Handsome Prince, a warm bronze; and Reigning Riches, a copper glitter. These go for $35.
Lip Polish
The Sweet Nude Patent Polish Kit contains Pleasure's All Mine, a pale warm nude; It's Really Me, a warm nude; Revved Up, a creamy peach; and French Kiss, a warm caramel. The Sweet Pink Patent Polish kit will have Patent, a pink, washed out lilac; Fearless, a deep blue pink; Hopelessly Devoted, a bright clean fuchsia; and Ruby, mid-tone rose. These will be $35.
And now for some brushes!
Are you ready?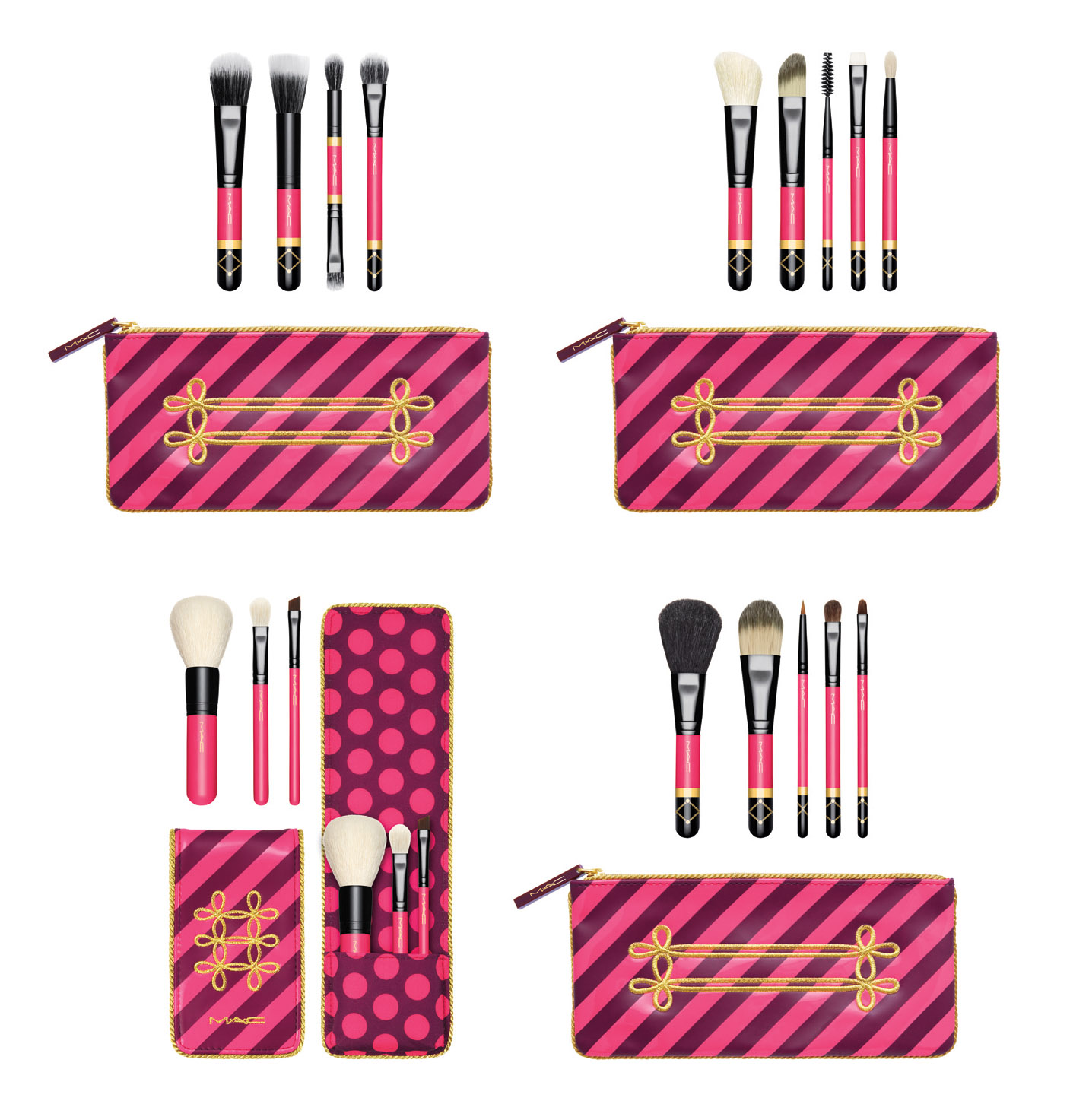 There will be a total of four brush kits, the Nutcracker Sweet Essential Brush Kit for $35, the Nutcracker Sweet Mineralize Brush Kit for $52.50, the Nutcracker Sweet Basic Brush Set for $52.50, and the Nutcracker Sweet Contour Brush Kit, available online and at MAC stores only, for $52.50.
Nutcracker Sweet Viva Glamorous sets
These include VIVA GLAM Ariana Grande Lipstick, a deep, dark matte plum, and VIVA GLAM Ariana Grande Lipglass, a light shimmer pink for $32, as well as the Nutcracker Sweet Viva Glam Lip Compact, which has VIVA GLAM I, an intense, matte brownish blue-red, VIVA GLAM II, a muted pink-beige with shimmer, and VIVA GLAM VI, a terracotta-plum with pearl, $25.
And the best part is that every cent of the selling price of VIVA GLAM products goes toward helping women, men and children living with and affected by HIV and AIDS. Do good while looking good, isn't that great?
If you're feeling overwhelmed by all the kits and just want to pick up some separate pieces, we got that, too!
There are five shades of lipstick: Kingdom of Sweets, a soft, milky pink; Flamboyish, a hot deep pink; Saucy Little Darling, a deep coral red; So Good For You, an intense cool red matte; and Leap of Delight, a deep plum purple, for $18 each.
The Magic Dust Eyeshadow includes six options at $23 a pop: Dance Flowers Dance, a light pink; Pretty Dainty, a pink coral shimmer; Rabblerouser, bright intense pink; Forward March, a peachy gold shimmer, Dark Lullaby, a midnight purple; and Mustache, black with gold sparkle.
There's Kohl Power Eye Pencil in Feline Black for $16.50, and Eye Kohl in Prunella, a purple, and Powersurge, bronzed brown with golden shimmer for $16.50 as well.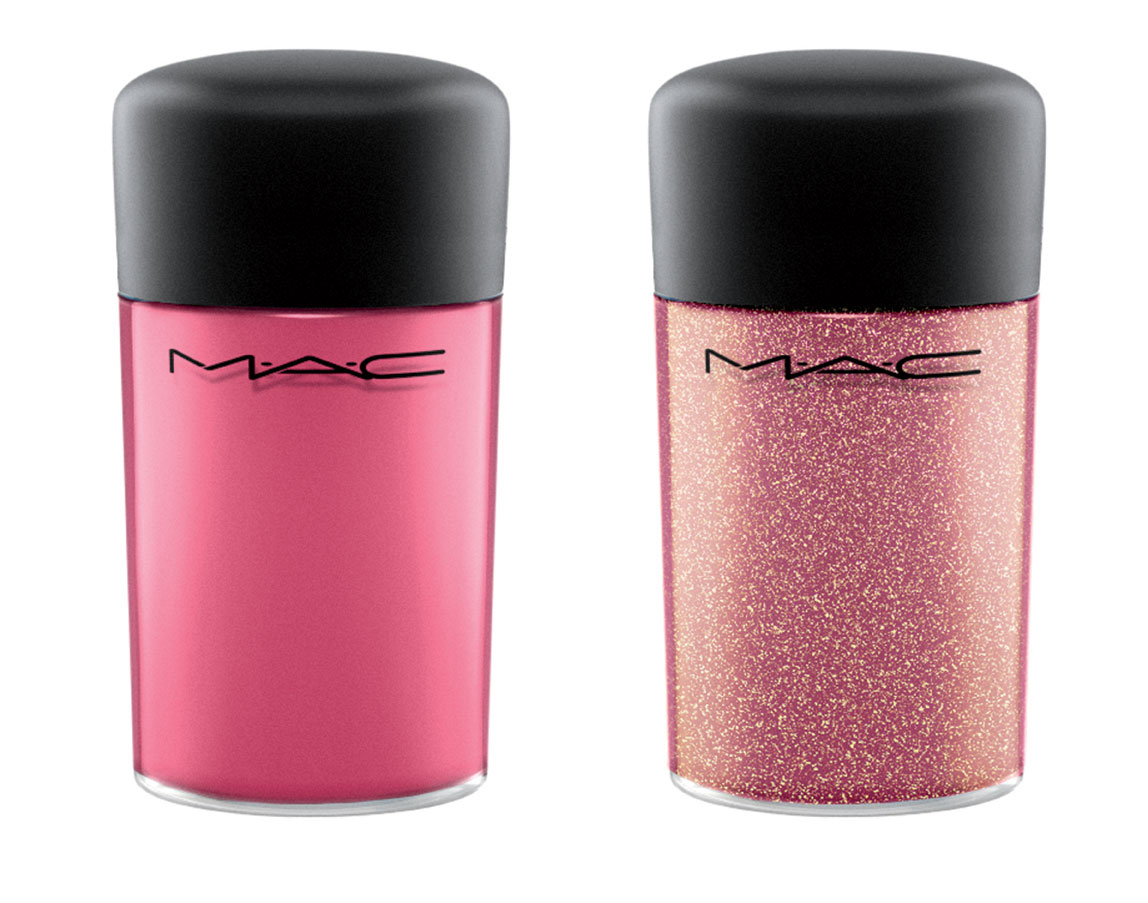 Two glittery Pigments include Rose, a rose with copper sparkle, and Process Magenta, a bright magenta, for $22 each. Finally, there are two options for Magic Dust Powder: Yum Yum Yum, a soft pink with gold pearl, and Sweet Vision, a pinky peach with gold pearl, for $28.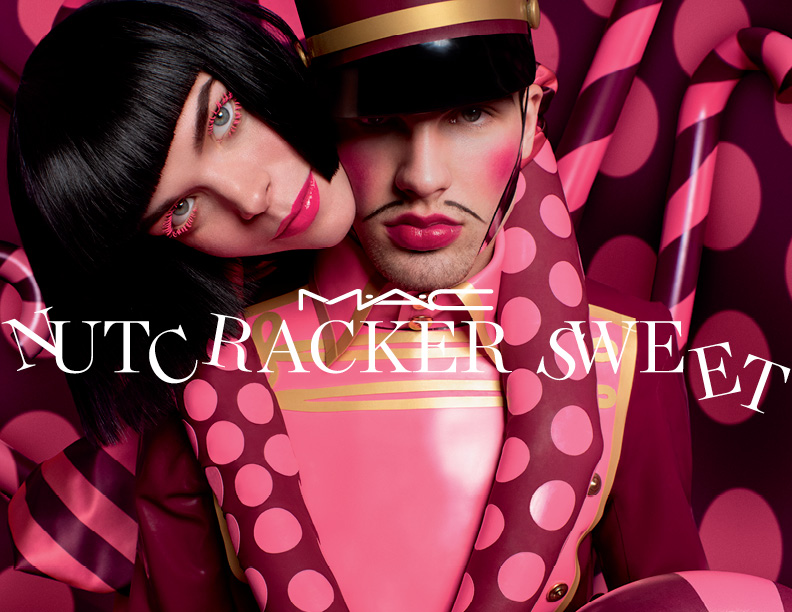 How insane is this collection, you guys? It's massive and each set is even more impressive and beautiful than the next! What more could you possibly need. I have a feeling they'll fit perfectly inside a stocking, don't you?
Mark your calendars, because the MAC Nutcracker Sweet Collection will only be available from October 27, 2016 to December 8, 2016!