Macaulay Culkin's live anti-Oscars tweets win the award for strangest internet moment of the night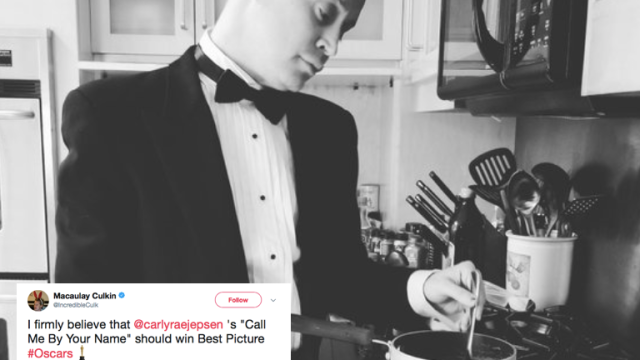 On Sunday, March 4th, while most of the entertainment industry headed down to the Dolby Theatre to celebrate a year in filmmaking, Macaulay Culkin put on a tuxedo, turned OFF the TV, and "live-tweeted" the 2018 Oscars. "I will be live tweeting the Oscars tonight, but I won't be watching them. WHA!?! That's crazy," the actor tweeted ahead of the telecast. "Question: Do you guys have any suggestions for what I should be doing instead of watching the show?"
It's unclear why he decided to take this stand against the awards show. Yes, it's a night of wealthy people patting themselves on the back for making movies, but it's fun to experience (in person and as a viewer) and we get glam inspiration from the red carpet. Perhaps Culkin was moved to boycott the show for moral or political reasons, or maybe he's just an anarchist. Either way, his live-tweets were bizarre af. Like, high-key strangest internet corner of the night.
This is the basic gist of his tweets last night.
"BREAKING NEWS: Oh snap, @MargotRobbie just kneecapped all four other Best Actress nominees #Oscars #ITonya."
"#Oscars PREDICTION: Best Short Film: I firmly believe that Taylor Swift's "Negative Space" will take this one."
"I don't know… I thought the BEST costume was Black Panther's cause he could deflect bullets. #WakandaForever #Oscars."
"Ladybird is my favorite episode of Roseanne since Laurie Metcalf smoked a joint in the bathtub #StashFromThePast #Oscars90."
So yeah, you get it.
He also slammed some of the abusers at the center of the #MeToo moment.
As weird and strangely amusing as these tweets were, at the end of his tirade, he used the buzz to plug his new podcast.
Hating on the entertainment industry to drum up interest for your own entertainment industry product? Well, looks like this was all part of a larger plan. Noted, Macaulay.