MAC's new lipsticks from the Fruity Juicy collection remind us of Starburst candy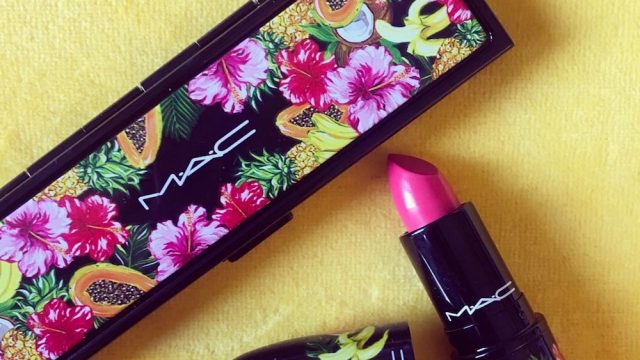 Summer is almost here, and that means it is time to return to colorful lipsticks! MAC Cosmetics is the go-to for bright pinks, though you wouldn't expect it from their usual cool black packaging. Their new Fruity Juicy collection adds flowers, fruit, and leaves to the packaging. Let's just say it's giving us total Carmen Miranda fruit hat vibes! The new collection will make you feel like you are lying on a beach eating Starbursts.
The line includes new shades of Cremesheen Glasses, eyeshadow palettes, and bronzers. The Fruity Juicy collection includes Prep + Set sprays, Lustre Drops, brushes, and an adorable makeup bag. Most importantly, it includes four must-have lipsticks. The lipsticks are Sisi Me (a satin finish orchid-like fuchsia), Love at First Bite (a satin finish Barbie-like pink), Calm Heat (a matte pale pink), and Shay Girl (a pale peach with a satin finish).
We are giving our nude liquid lipsticks a break, because the MAC Cosmetics Fruity Juicy lipstick collection is bringing color back!
Can you see why this collection reminds us of Starburst candy?
The eyeshadow palettes match the lipsticks perfectly!
These pops of color will look great with a cool black cat-eye liner, don't you think?
We are LIVING for these tropical additions to the usual sleek MAC packaging.
This whole collection is like a delicious vacation for our faces.
The MAC Fruity Juicy collection is expected to drop on May 18th, according to Nylon, and we can't wait to get our hands on it.