MAC Cosmetics is collaborating with Korean fashion designers Steve J and Yoni P on a psychedelically cute collection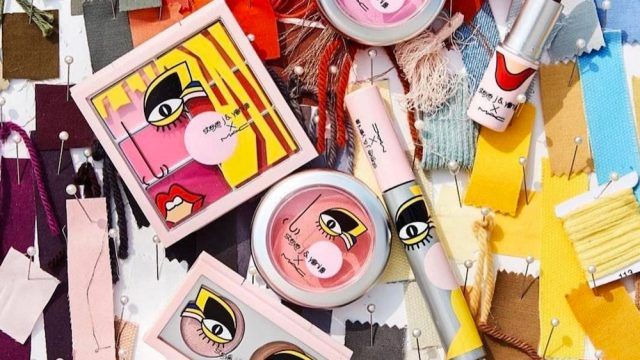 MAC Cosmetics and Korean fashion designers Steve J and Yoni P are teaming up for an eclectic collab that will bring some whimsy to your makeup bag.
MAC is possibly the most collaborative of all cosmetics brands. It seems like every week there's a new announcement from the iconic brand, known for its philanthropic contributions as its daring pigments. MAC always has its ear to the ground for the coolest trends in pop culture, music, and design trends worldwide.
Their latest partnership brings us to Korea, where they've teamed up with a colorful clothing company. Quirky Korean label Steve J and Yoni P has the perfect flair and philosophy to join the MAC universe.
The Steve J and Yoni P aesthetic is one of ruffles, florals, and fun.
The Seoul-based womenswear company lends some illustrated whimsy to the forthcoming collection. The products haven't been officially announced yet but there are some teasers on Instagram, and they look completely adorable. Brushes feature bright canary yellow bristles, soft pink details, and silver chrome handles.
These'll brighten up your day for sure.
Eye, lip, and cheek palettes are adorned with illustrated eye and face designs that are totally trippy. The contents of the packages appear to be in the warm family, with pinks heavily featured.
Look at these swatches, truly divine!
https://www.instagram.com/p/BTCTEqODjSi
Wher psychedelic meets cute.
https://www.instagram.com/p/BTCEx0bF1W2
There's no release date announced yet, but judging by the color scheme we're thinking it'll be a summer release. We can't wait to see more swatches of the products and the ad campaign!
Steve and Yoni really love a good pink.
Buy the Steve J and Yoni P x MAC collection from MAC when it drops, and hopefully it comes out sooner than later.