Lynda Carter, the OG Wonder Woman, just clapped back against James Cameron's sexist critique of the new movie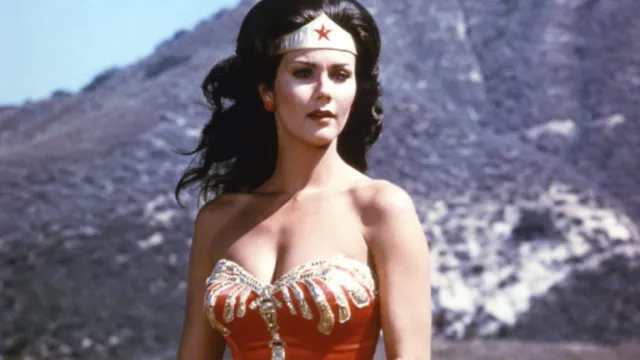 If you like to keep up with movie news, then you likely have already heard about James Cameron's recent — pretty negative — comments about the new Wonder Woman. And now, Lynda Carter is clapping back against Cameron's critique, hard core.
For those who don't know, Lynda Carter played Wonder Woman on TV from 1975 to 1979, making her the OG lady badass.
For those who missed it, this is what Cameron initially had to say in an interview with The Gaurdian:
"All of the self-congratulatory back-patting Hollywood's been doing over Wonder Woman has been so misguided. She's an objectified icon, and it's just male Hollywood doing the same old thing! I'm not saying I didn't like the movie but, to me, it's a step backwards."
He then reiterated his thoughts in an interview with The Hollywood Reporter, stating, "She [Gal Gadot] was Miss Israel, and she was wearing a kind of bustier costume that was very form-fitting. She's absolutely drop-dead gorgeous. To me, that's not breaking ground. They had Raquel Welch doing stuff like that in the '60s."
"To James Cameron -STOP dissing WW: You poor soul. Perhaps you do not understand the character. I most certainly do. Like all women--we are more than the sum of our parts. Your thuggish jabs at a brilliant director, Patty Jenkins, are ill advised. This movie was spot on. Gal Gadot was great. I know, Mr. Cameron—because I have embodied this character for more than 40 years. So—STOP IT."
So. Much. Yes.
We may be a little biased, since we here at HelloGiggles are unapologetically obsessed with the movie. But to reduce the new Wonder Woman to nothing but what the character is wearing ignores so much of what makes the movie special and innovative. It also proves that Cameron truly doesn't understand what it feels like to almost never see your gender represented as an onscreen hero.
Merely having the film's central protagonist be strong, brave, and unstoppable — and also a woman — means so much to girls everywhere. (Oh, also, can we finally get over the notion that women can't be strong, smart, and sexy? Pretty please?).
Basically, Carter's comments have us cheering. Thank you, lady, for saying what we all were thinking!