Lykke Li has a new supergroup and their first video is a nudest dream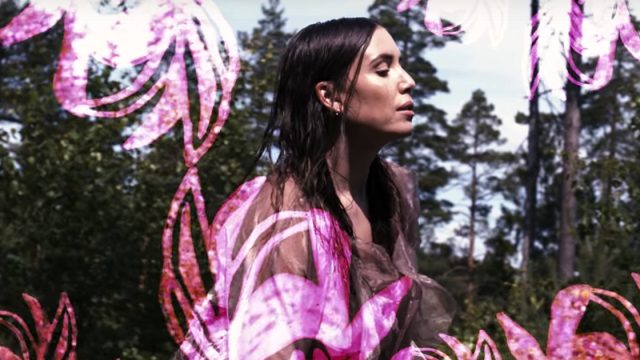 We absolutely adore Lykke Li and her off-beat alt-pop. Songs like "I Follow Rivers," "Gunshot," and "Possibility" are some of our all time faves.
That's why we were SUPER excited to learn that the Swedish singer songwriter was launching a supergroup.
Called LIV, the new group is comprised of some stalwarts of Swedish pop music, including producer Jeff Bhasker, Miike Snow members Andrew Wyatt and Pontus Winnberg, and Björn Yttling from Peter Bjorn and John.
Collectively the band's members have worked on music with Britney Spears, Madonna, Robyn, The Hives, Chrissie Hynde, Taylor Swift, Kanye West, Mark Ronson, Ed Sheeran, and even The Rolling Stones. Basically, that's the whole music industry!
The group's first song is called "Wings of Love" and it's a '70s throwback track that'll have you craving the summer of love.
https://www.youtube.com/watch?v=IeZUJus-Xwk?start=226&feature=oembed
Complete with naked frolicking and a lot of old school haircuts, we have to say there's something almost utopian about the song's video. We're really drawn into the free spirited nature of it all.
In fact, this was part of the point.
Speaking to Vogue.com, Lykke Li explained how the project was born out of a need to be free.
"I think that you can get lost a lot when you've been doing it for a long time. So it was about getting back to the purity, the art . . . . It's so much more fun doing it together than doing it alone," she said. "We're kind of making our own music in a slightly nostalgic way, where we're trying to create the music that we want the world to have at this time, because it's definitely not what the world is like now."
Okay, we can totally see this, and actually really love the sentiments here.
Given what's going on in 2016, it's nice to have an escapism in the form of art. While we love politically motivated and social conscious music, it's nice to have a rest from the weights of the world. We can totally see ourselves bopping to "Wings of Love" for some time to come.