Lush employees are going nude for the environment today, so consider yourself warned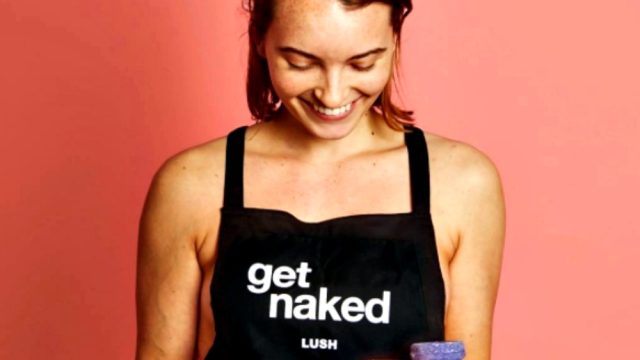 In the name of drawing awareness to all of the excess packaging we use on our beauty products, Lush employees will be going nude on Wednesday. It's only happening in New York City, where participating employees will gather at two locations on West 34th Street between 5th and 6th and Lexington Ave. at the corner of 61st Street (which are both very busy spots) with only their black aprons to cover them.
There will be skin.
Luckily, it's a warm sunny day in the Big Apple, so they should be alright. The gathering of the naked Lush employees is all part of an effort by the company to eliminate waste with their product packaging. Already, 35 percent of Lush products are packaging free, like their shampoo bars, massage bars, and henna hair color. Which means that there are way less plastic bottles in the world.
In addition to that, the company doesn't use gift wrapping anymore either, if you haven't noticed. Instead, they use fabric knot wraps, all of which are made from recycled plastic bottles or organic cotton. It they have to use packaging for things like gels or something, Lush is pretty conscious about where the materials come from. It's valiant effort to lower their carbon footprint and eliminate as much waste as possible.
Brandi Halls, Director of Brand Communications for Lush said in a press release, "As a company, we tend to go all the way for causes we believe in. If flashing our bums inspires consumers and industry to reconsider their packaging practices, then we'd say it's definitely worth a few blushes."
https://www.instagram.com/p/BUkzd0VgOpW
It really is. There are tons — like, actual tons — of plastics in landfills and in our oceans. Those plastics take hundreds of years to decompose and then when they do, can release hazardous chemicals into the environment. When it comes sustainability, being conscious of how much plastic and packaging you're going through is really important. It might even be worth flashing all of midtown Manhattan to get people's attention.