Watch someone try out Lush's new Ectoplasm Jelly Bath Bomb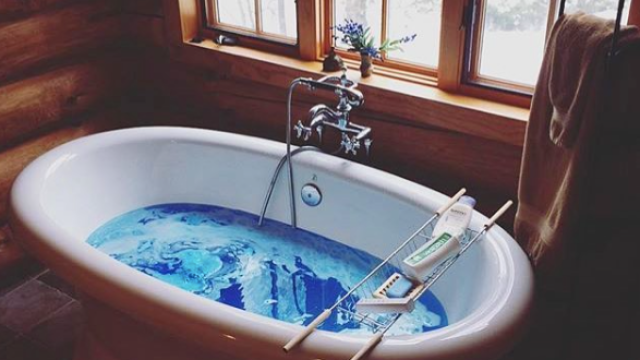 The whole world has come to love and appreciate Lush's bath bombs. They smell like a piece of heaven was sliced away and presented to us on a cotton candy platter, and they're the most relaxing way to spend a lazy afternoon. The newest bath bomb from Lush is the Ectoplasm Jelly Bomb (which sounds like a long lost Power Ranger), and it functions in a similar capacity to a classic bath bomb.
Upon first glance, the Ectoplasm Jelly Bomb might remind you of every other Lush bomb, but you'll notice the difference when you put it into the water. Rather than dissolving completely in the bathtub, the Ectoplasm leaves behind a pleasantly gooey residue that feels soft and weirdly luscious. See for yourself.
https://www.instagram.com/p/BQJMghGFikh
The bubbles appear to be slimy and gel-like, and you can squash them with your hands, making bath time nearly as fun as it was when you were a kid. These jelly bombs are made with carrageenan seaweed and grapefruit oil, so you can rest assured that the jelly goodness in your bathtub isn't going to harm your body in any way. In fact, your skin will rejoice in the nourishment of it.
We have to get our hands on one of these Ectoplasm bombs — stat. Look at that slimy goodness, like it was made for the Ghostbusters movie. Plus, it apparently makes your whole bathroom smell like a fresh grapefruit.
Unfortunately, these magical Ectoplasm Jelly Bombs are not available for sale yet in the U.S. They're still being developed in the U.K., so we're waiting with bated breath until they're finally sold in America and we can make all our slimy bathtub dreams come true.