Lupita Nyong'o and Kumail Nanjiani took a stand for DREAMers at the 2018 Oscars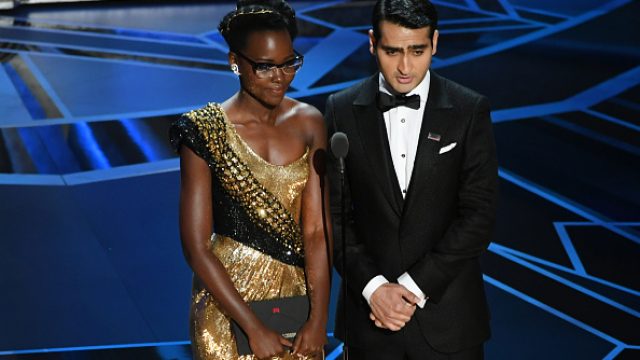 Sunday night's 90th Annual Oscars has shown celebrities taking a stand for social issues such as the #MeToo and #TimesUp movements and gun reform, and another pressing message of solidarity came from presenters and actors Lupita Nyong'o and Kumail Nanjiani.
Before they announced the nominees for Best Production Design, the Oscar-winning Kenyan-Mexican actress and Oscar-nominated Pakistani-American writer and actor took a moment to speak about an issue that impacts 800 thousand Americans. Speaking about their own experiences as immigrants ("We are the actors you keep hearing about but whose names you have trouble pronouncing"), Nyong'o and Nanjiani shared their support for the DREAMers, whose lives depend on government renewal of the Deferred Action for Childhood Arrivals (DACA) act.
In a joint statement, the two actors declared, "Dreams are the foundation of America. And so, to all the DREAMers out there, we stand with you.
Enacted by former President Barack Obama, DACA grants undocumented immigrants the ability to legally remain in the U.S. for two years. However, in October 2017, the Trump administration halted the program, leaving thousands of people uncertain about their future standing in America.
While a bipartisan agreement was reached back in January, President Trump rejected the compromise. The deadline for a new DACA bill is March 5th — the day after the Oscar ceremony. false
While the future of the DREAMers is unknown, we applaud Lupita and Kumail for coming forward and voicing their support. Here's hoping we get the DACA that this nation deserves.