Lung cancer rates for white and Hispanic women have surpassed rates in men, and no one knows why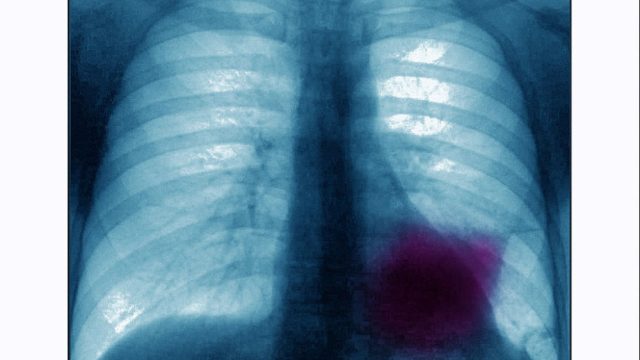 Even though scientists have made huge strides in the battle against cancer, there's still a long way to go before a cure is found. But researchers continue to learn more and more about this complex disease, including how factors like your genetic makeup and where you live impact your risk of contracting it. And in a recent study published in the New England Journal of Medicine, scientists found that the rate of lung cancer in women has exceeded the rate in men among white and Hispanic women.
Researchers from the American Cancer Society and National Cancer Institute examined data on the incidence of lung cancer in the U.S. since 1995, as well as rates of smoking. The results were somewhat surprising,because lung cancer diagnoses in white and Hispanic women aged 30 to 54 had outstripped diagnoses in men of those groups for the first time ever.
The study's lead author, Ahmedin Jemal, noted that gender-based differences in smoking could not explain the phenomenon.
"While prevalence of smoking among men and women has converged over the past several decades, smoking prevalence among women has still generally not exceeded that of men," Jemal said in a statement to CBS. "We do not believe sex differences in smoking behavior explain our finding of a gender crossover."
Researchers have speculated that there might be biological or genetic factors at play. As the Washington Post reported, the study says that the risk of cancer decreases every year once patients stop smoking, but in women, the risk of one specific kind of cancer — adenocarcinoma — decreases more slowly than in men.
Jemal suggested to BuzzFeed News that women could be either more susceptible to the negative effects of smoking or more prone to types of cancer not caused by cigarettes — but at this point, neither theory has been proven. And according to the ACS, about 20 percent of those who die from the disease have never smoked.
But there is some good news.
Even though more women than men are getting lung cancer, the overall rate of cancer cases for women has remained constant. Additionally, cancer deaths have decreased for both men and women.
The findings of this latest study are concerning, but as long as scientists continue to research cancer, there's always hope. And remember: if you're every feeling like something isn't right with your body or health, never be afraid to get it checked out by your doctor.