Lulus' new size-inclusive bridal collection has wedding dresses under $150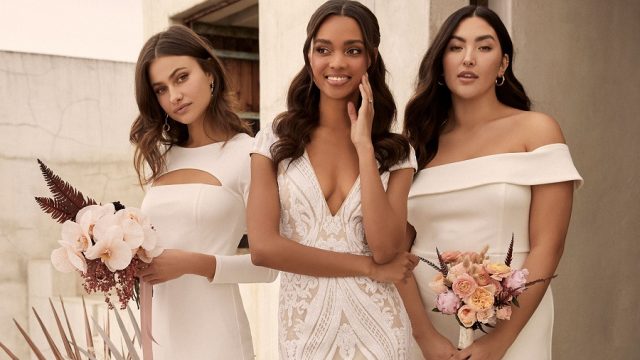 Judging from certain shows on TLC, it may seem like you have to spend $5,000 or more on a wedding dress. If you have the budget and your eye on that special gown, more power to you, but most of us can't shell out even half, a quarter, or…much of any of that price. Enter: Lulus' new bridal collection.
The latest collection has most wedding dresses under $150, some under $100, and all under $400. And while not all the dresses are size-inclusive, Lulus recently announced its renewed effort to offer sizes that extend from XXS to 3X. We can hope that they extend that size range to even more styles.
"Not every bride is the same size, said Colleen Winter, CEO and co-founder of Lulus to The Knot. "Our goal with this collection is to make sure all of our bridal customers feel confident and beautiful on their special day. We're thrilled to be introducing inclusive sizing in bridal, which is one of our most popular categories today.
Lulus' new bridal collection has everything you need to celebrate your big day, from wedding dresses to bridesmaid dresses, including lots of more casual white dresses that would fit perfectly at your bridal shower or rehearsal dinner. At this price point, you may even be able to live the celebrity dream of having two wedding dresses and making a costume change for the reception.
What's fun is that for each style, you can check out "fan photos" of real-life brides and bridesmaids in the wedding dress, so you can get a feel for what it looks like on multiple people.
Shop our favorite wedding dresses from Lulus' new size-inclusive bridal collection below. For each style, we'll note exactly which sizes it's available in.
1Lulus Sweet Love Ivory Lace Beaded Maxi Dress
Tulle, lace, beading, floral—this v-neck wedding dress has everything of your bridal dreams. It's available in sizes XS to 3X.
2Lulus Flynn White Lace Maxi Dress
Ahem, this pretty lace wedding dress is under $100. So you don't even have to be devastated if you get a little red wine on it. You can snag it in XS to 3X.
3Play My Song Ivory and Champagne Long Sleeve Maxi Dress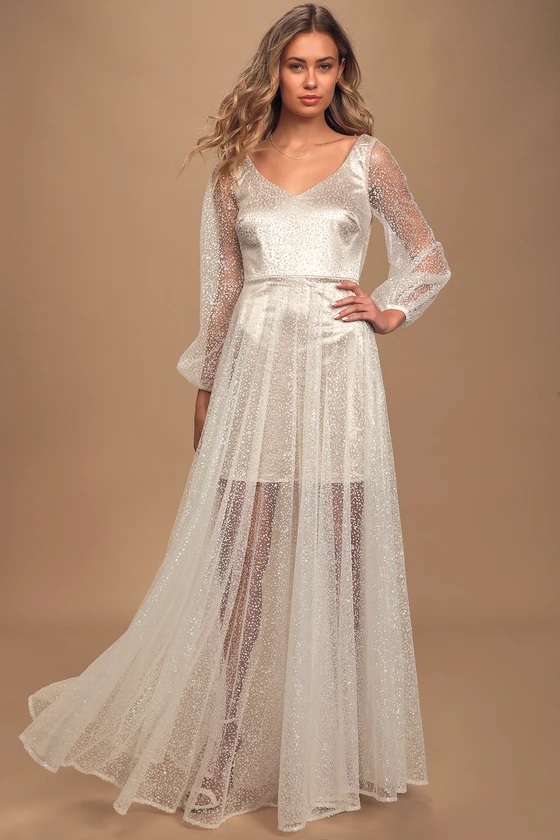 While this dress is only available in sizes XS to XL, we had to include for the statement-making glitter skirt and sleeves. Who doesn't want to sparkle on their wedding day?
4Lulus Adley White Lace Three-Quarter Backless Maxi Dress
Channel Kate Middleton and walk down the aisle in a lace-sleeved wedding dress. That back is everything, and it's available in sizes XS to 3X. Lulus has another lace, full long-sleeve wedding dress that's also available up to 3X.
5Lulus Always Adored White and Nude Sequin Mermaid Maxi Dress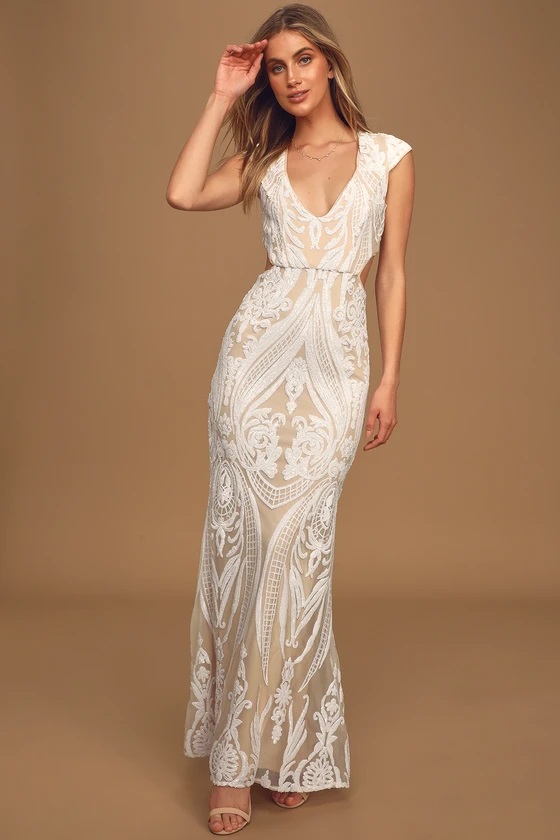 This gown has red carpet written on it as much as bridal. It's sleek and sophisticated, and it's currently offered in sizes XS to XL.
6Lulus Forever and Always White Lace Maxi Dress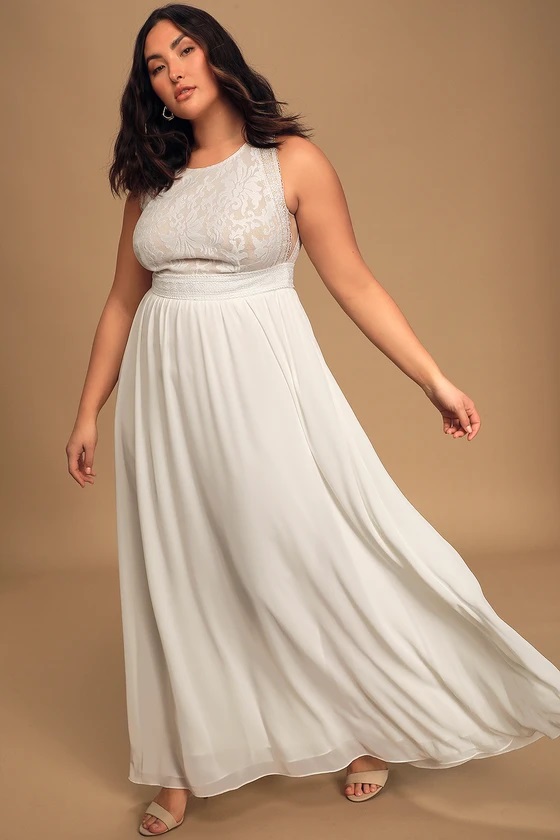 We love the ease of this wedding dress. We can totally see ourselves busting moves on the dance floor in this one. You can shop it from XS to 3X.
7Lulus Serenity White Strapless Organza Maxi Dress
The A-line silhouette and organza make this one feel peak bridal. But it's the least expensive one on the list at only $89. Currently, it's only offered in sizes XS to 3X.
8Lulus Aveline White Off-the-Shoulder Maxi Dress
The sleek simplicity of this wedding dress just makes the off-the-shoulder style more stunning. You can buy this one in sizes XS to 3X.
We love to see Lulus making changes into extended sizing, and we'd love to see even more in its next affordable wedding dress collection.