Luke himself showed up at one ~Luke's Diners~ and it's the best "Gilmore Girls" surprise ever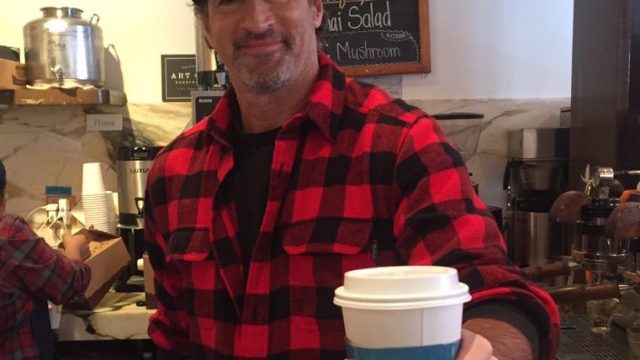 You can't just open up a Luke's Diner without Luke Danes himself, you know. While every single one of Netflix's pop-up Luke's Diner had a giant cardboard cutout of Stars Hollow's most favorite grump, only ONE actually had the real, live, flannel-wearing Scott Patterson.
https://www.instagram.com/p/BLMEor7DiD2
https://www.instagram.com/p/BLMDsfdFWvI
Earlier today, Patterson  stopped by the Comoncy Cafe in Beverly Hills, Los Angeles and certainly gave fans waiting for a fresh cup of coffee a perfect Gilmore Girls surprise.
As you can probably imagine, just about everyone lost their Gilmore mind.
https://www.instagram.com/p/BLMM5usDp0r
He not only greeted fans waiting outside (and inside) the coffee shop, but then headed inside to actually distribute the coffee himself. Oh my Lorelai, what a nice guy.
https://www.instagram.com/p/BLMJ5mqFxUV
"I was always hopeful about the show. I'm glad we got to give the fans what they truly deserve," Patterson explained to Variety (in between brewing up fresh pots). And as for where Luke will be when the revival picks up, "Luke is Luke. I think the reason why fans love him so much is because he doesn't change. He's kind of a rock that way, so fans are going to get more of that."
"It's going to be something they really recognize, but there is going to be a lot of unexpected surprises for them, Patterson continued. "Fans are going to be very surprised, and I think they're going to love it.
We also don't want to talk about what was probably the best moment of this Luke's Diner pop-up, but it was probably when fans outside started singing "Where You Lead" to Patterson.
This is certainly going to be a day many Gilmore Girls fans remember forever…one that will only be topped by the release of A Year in the Life on November 25th.