We are not ready to say goodbye to Riverdale's Luke Perry at Fred Andrews' funeral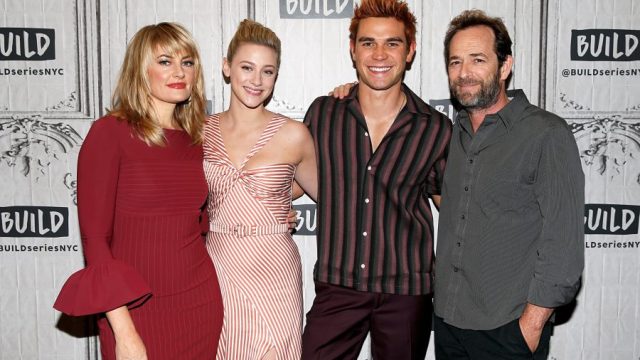 The pain of losing actor Luke Perry is fresh once again. The promotional teaser for Perry's upcoming October 9th Riverdale tribute episode, which will be the first episode of Season 4, was released yesterday, October 3rd. As we expected, this episode is going to be a tearjerker.
Featuring Archie (played by KJ Apa), Betty (Lili Reinhart), Veronica (Camila Mendes), Jughead (Cole Sprouse), and the rest of the Riverdale gang, the promo shows the town gathering for Fred Andrews's funeral, during which Archie will give an emotional speech about how his dad "will always be a part of Riverdale."
And, no. We're not ready to see this at all.
Perhaps best known for his portrayal of Dylan McKay on the '90s drama Beverly Hills 90210, Perry was a beloved actor and devoted father to children Sophie and Jack. Back in March of 2019, Perry suffered a major stroke and passed away days later at the age of 52.
Fans and celebrities took to Twitter to mourn and celebrate his legacy.
Due to the sudden nature of his death, his passing wasn't mentioned during Season 3 of Riverdale, other than an episode dedication after the final scene of the episode that aired closest to his passing, as well as a commitment from the showrunners that all future episodes would be dedicated to Perry.
But in advance of Season 4, the showrunner Roberto Aguirre-Sacasa made plans to address both Luke Perry and his character Fred Andrews's death with a tribute episode, which will guest-star Shannen Doherty, Perry's former 90210 costar.
While details surrounding Doherty's character are still under wraps, Aguirre-Sacasa told Entertainment Weekly, "Shannen plays the person who tells us what happened to Fred...She was there and she's an unexpected source of comfort to Archie. A big piece of what happened to Fred comes to Archie through Shannen's character. The scene is so heartbreaking because you really feel Shannen's love for Luke."
Tune into the Season 4 premiere of Riverdale on Wednesday, October 9th, on the CW to watch the emotional tribute.