Scott Patterson from "Gilmore Girls" is starting his own coffee brand IRL because OF COURSE he is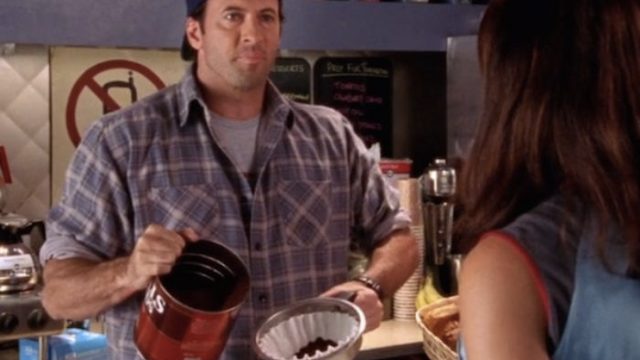 When we think of Gilmore Girls, we think of coffee. It's one of the main threads of the show, constantly flowing and bringing everyone together at Luke's Diner. On screen, Lorelai always has a cup (or two) in front of her. And if she doesn't have a cup, she's talking about how she needs one, or how she believes she's the spirit of coffee reincarnated. And now, the real Luke, aka Scott Patterson, is starting his own coffee brand.
Every Gilmore Girls fan dreams of drinking coffee at Luke's Diner. We got our chance last year when Netflix unveiled pop-up Luke's Diners across the country to celebrate the release of Gilmore Girls: A Year in the Life. If we need a quick fix, we can buy these Luke's Diner coffee pods. But we're serious fans, and we want more. Luckily Scott Patterson, the actor who plays Luke Danes himself, has delivered.
In an interview with WealthManagement.com, Patterson revealed that when he's not acting, he keeps busy with a very Luke Danes-esque hobby: working on his coffee brand. We repeat: Scott Patterson will be coming out with very own coffee. This is not a drill!
"I'm developing my own coffee brand, the actor told WealthManagement.com. "We're almost ready to launch, but we want to have our ducks in a row before we come out with it.
Patterson's new brand will be called Scotty P's Big Mug Coffee. We had no idea he was such a coffee enthusiast! Luke always served a great cup, but never drank it himself.
"Quality coffee is something that I am obsessed with, Patterson continued. "It's the thing I look forward to every morning and throughout the day and throughout the evening and now throughout the middle of the night.
First the coffee, now the fast-talking. Is it just us, or is Patterson starting to sound exactly like Lorelai?
Scotty P's Big Mug Coffee is still in development, but when it's ready, we'll be first in line to try it. We think Lorelai would be SUPER proud.
Coffee, coffee, coffee!