Lucy Hale's new hair color is the perfect embodiment of fall
Fall is a super inspiring time to change up one's hair color for all of us, even our favorite celebs! Lucy Hale is certainly no exception, and her new stunning color is giving us major autumnal feels! There's nothing like busting out your sharp fall wardrobe, slipping some booties on your feet, and getting cozy in a chunky knit sweater to inspire you to update your hairdo. It's just nice to feel refreshed and renewed at the turn of a season, don't you think? Not only does it usually look great, but it helps you feel ready to take on whatever the world might bring!
Lucy's hairstylist, Kristin Ess, has graced us with a photo of Lucy's latest look, and it's clear she took inspiration straight from the beautiful changing leaves on all the trees!
The warm auburn tones are absolutely gorgeous. They perfectly capture the essence of all things that are fall. It's also a fairly more subtle way of doing it than, say, pumpkin spice latte nails! Can't we have an amazing stylist like Ess available at our fingertips? She told Refinery29:
"We wanted to play with some warmer tones for fall. I gave her a warm, reddish-brown base, balayage highlights, and glossed over everything with amber tones. Lucy's skin tone is magically versatile."
There is nothing on this earth that looks bad on Lucy Hale. What kind of sorcery is this?
As you can imagine, her followers are losing it on Instagram — which we understand and respect: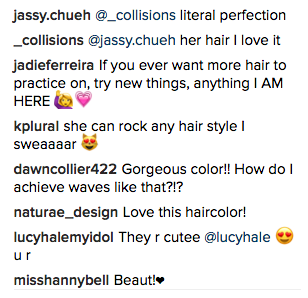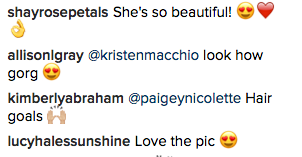 And it looks like Ess also gave Lauren Conrad a similar fall-inspired update!
What a babe! All this luminous golden hair is seriously bringing us life on these nights when the sun goes down crazy-early.
We can't wait to see what Hale and Ess come up with next. Every time Lucy unveils a new color, it slays!
What do you think? Do the seasons inspire your hair color? We also love that she didn't feel the need to go ultra dark in the fall to change up her look, as so many do. This auburn balyage is the perfect example of how you can update to a seasonal color that still feels like you!