Lucy Hale's Teen Choice Awards hairdo is giving us "Basic Instinct" vibes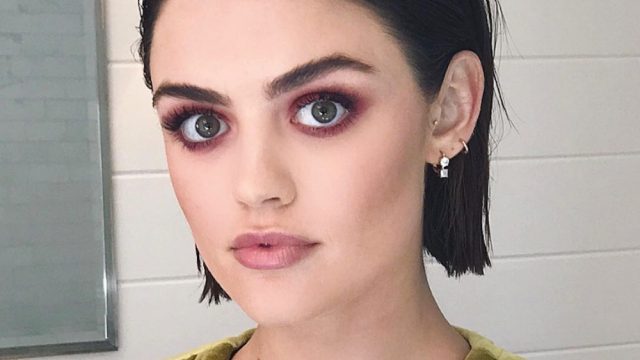 As part of her fully committed look for Sunday's Teen Choice Awards, Lucy Hale's hairdo gave us major Basic Instinct vibes. The 28-year-old actress was seen wearing bright red eyeshadow, which was dubbed "berry eyes" on Instagram, slicked-back hair, and an ornate Fausto Puglisi dress for her Teen Choice Awards appearance. Her hair was directly inspired by Sharon Stone's in her role as the iconic crime novelist in Basic Instinct, thanks to hairstylist Kristin Ess — and, honestly, we can see it. Hopefully Hale doesn't find herself close to the mysterious deaths of any rock stars (she'll have to stay vigilant against dreamy homicide detectives).
Can we talk about this dress, too?!
The hair, the dress, and the eyeshadow combination should be illegal (we mean this is in a good way).
Her Stuart Weitzman shoes, makeup, and mani-pedi also completed the dramatic Sharon Stone-inspired ensemble.
She looks ready to connect with some true crime drama at the Teen Choice Awards, or have a dangerous (and unlikely) meet-up with early '90s Michael Douglas.
The slicked-back hair look is one that not many women can pull off, but Stone and Hale have it down pat.
We appreciate that hustle.
In case the references are leaving you confused, here's a taste of Stone's hair.
https://www.instagram.com/p/BWUliDXFegn
We'd support this look coming back.