Lucy Hale shared her #MeToo story, said she's been "intoxicated and taken advantage of"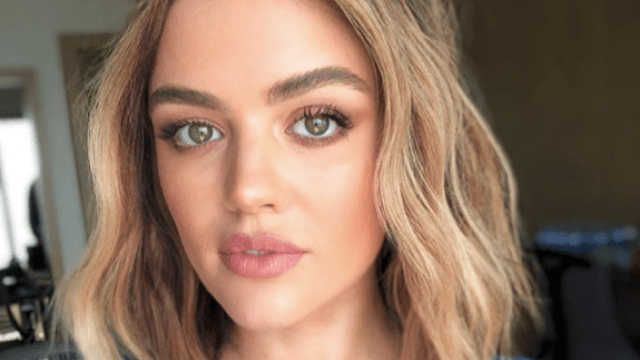 Lucy Hale got real about her experiences with sexual assault, and we're listening. In a new interview with Haute Living, the actress opened up about the #MeToo movement and added her own story to the powerful ongoing conversation. Since Harvey Weinstein's watershed takedown in October 2017, individuals across all industries have started to feel safe enough to share their own stories. For too long, women have avoided naming their accusers, pressing charges, or speaking about assault or harassment for fear that they wouldn't be believed. We have a long way to go, but public discourse is one way to hold accusers accountable and for the victims it's a way to be seen, heard, and believed — which is incredibly valuable for many in their healing process.
Hale is but one of many women in Hollywood who have felt ready to share their story in this post #MeToo era.
"I've experienced stuff on the small side, but assault is assault, the Pretty Little Liars actress told Haute Living. "I think there are a lot of people who have been intoxicated and taken advantage of. It's happened to me and people I know. It's very common. Luckily, I've been unscathed; nothing's hurt me too badly.
In January 2018, Hale alluded to her own sexual assault in a series of now-deleted social media posts.
"I never understood sexual assault until tonight. I always sympathized, but I never felt the pain of it until right now. My dignity and pride was broken. I am completely at a loss of words," she wrote in the now-deleted tweet.
https://www.instagram.com/p/BkLLFsyAz67
After that cryptic tweet, Hale said in a People.com interview that she was thankful for the many individuals who had already spoken openly about their experiences with sexual harassment and assault.
"I feel grateful to have people that I look up to that are speaking up about things, Hale told People.com. "Not just women — I think men have sometimes suffered the same way that women have. And as long as a conversation is going or a conversation has started, which it has, that's the best thing you could ever ask for because that makes people feel not alone. I think if powerful people can make a difference by speaking up, which they are, that will trickle down hopefully.
Just like Hale is grateful for the women who have spoken up before her, we are grateful for Hale's story and hope that she's been able to find the solace and help she needs to process her experiences.