Why Lucy Hale Says Getting an IUD was One of the Most "Empowering" Choices She Ever Made
"It was probably the best decision I've made for my health," the star tells HelloGiggles.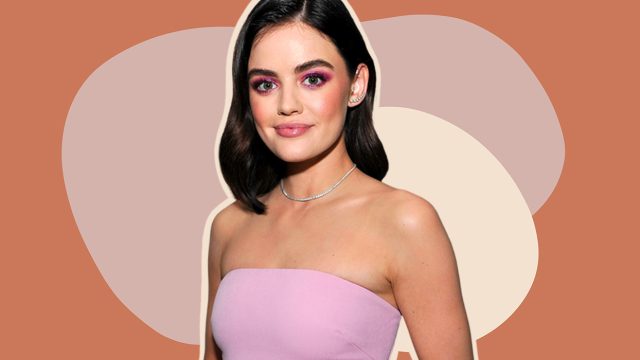 Good-girl roles have been a staple throughout Lucy Hale's career, from Aria Montgomery on Pretty Little Liars to the titular character on the CW's Katy Keene. In reality, though, the 31-year-old actress isn't like the doe-eyed young women she often plays onscreen (although her eyes are startlingly large, even when seen via pixelated box on a Zoom call). As a self-proclaimed "open book", Hale is more outspoken than her characters, happy to talk about taboo topics like white privilege, sex, and birth control. The star is clearly confident about making decisions that impact her future, and as she tells HelloGiggles, she wants to help other women feel empowered to do the same—especially when it comes to contraception.
"A lot of women go through their lives wanting to make choices about birth control, but they just don't know where to begin," Hale, who recently partnered with pharmaceutical company Bayer, says over a Zoom call in August. "I gladly take on the role of getting this conversation started for them. Maybe seeing one of my Instagram posts or hearing me talk about this will encourage them to make really amazing, positive decisions for themselves."
"I want to empower women to live the best and healthiest lives they can," she continues.
Hale's mom is a labor and delivery nurse, so the actress says that growing up, sex was never a foreign concept in her house. She remembers learning about reproductive health at an early age, but also recalls how her peers weren't exposed to the same information about their bodies. Now, as a confident adult, Hale wants to ensure that other women have the information at their fingertips needed in order to take control of their lives. "I always knew about my birth control options and had access, but a lot of other women don't," she says. "It's so important that we educate ourselves and take care of ourselves."
Over the past year, Hale has worked with Bayer to shed light on contraceptive options and fight for equal access to birth control for all who need it. Recently, Bayer partnered with humanitarian organization Direct Relief to kickstart a new initiative called We're for Her, a three-year plan that aims to break down the barriers preventing thousands of women from accessing birth control today. The two companies are teaming up to provide educational materials, product donations (including IUDs), and grants to health clinics around the country. Hale, for her part, is using her platform to shine a light on this initiative and help end the stigma around birth control.
"I just want to open the conversation and push people toward deciding what's right for them," she explains. "Nobody else can make this decision but you, and that's really cool."
When it comes to the decisions Hale has made for her own reproductive health, the star reveals that she's been on different versions of the pill throughout her life. Just over a year ago, though, she opted for trying the Kyleena IUD, the smallest, lowest-hormone five-year IUD available—and she says now that she's never going back.
"No joke, it was probably the best decision I've made for my health," Hale explains. "It was one of the most empowering decisions I've ever made. I'm not in a relationship right now, but eventually, I do want to get married and have kids. So, ultimately, the IUD was perfect for me because it lasts up to five years; it blew my mind that you can safely use it for that long."
Like many busy women, Hale admits that she would forget to take the pill sometimes, making the convenience factor of an IUD a "selling point" for her. "Having an IUD gives me consistency without ever having to think about it," she adds. "It's just one less thing I have to worry about."
Woman to woman, I tell Hale that I'm hesitant to get an IUD because, let's be honest: it doesn't sound fun (between 10–20% of women experience severe pain during IUD insertion, according to Bedsider). When I confess my nerves, Hale gives me a knowing smile. "Look: I was in the same boat as you," she says. "I was apprehensive because, it's not invasive, but it's more of a process than taking a pill every day."
"I asked all the questions that girls ask: Does this hurt? Can you feel it? Can it fall out? Can I take it out?" she reflects. "I know it's different for everyone, but for me, honestly, the process took, like, two minutes—and it was completely painless. I feel 100% confident in my decision."
As we chat, Hale sits in a plush-looking grey chair in her Los Angeles home, wearing a blue and white floral top that's very grandma's-wallpaper-meets-Instagram-picnic. Despite the seriousness of our conversation's topics, she exudes a chill vibe that, it turns out, is a side effect of her time in quarantine this year.
"I've done the whole quarantine alone—well, with my dog," Hale says, laughing while holding her white Maltipoo Elvis up to the screen. With Elvis as the only member of her quaran-team, the star has spent her time meditating, exercising, and allowing herself to slow down after working non-stop (Katy Keene was cancelled in July and her latest movie, A Nice Girl Like You, came out on July 17). "I made a lot of plans and bought a lot of hobbies, like a keyboard and painting supplies, but I'll be honest—I truly did not do much but work out and watch TV," she says.
And despite all the tie-dying and banana bread-baking accomplishments other people have plastered on Instagram during the pandemic, Hale says she's content with her relaxed experience. "I think we all realized during this time that we've become so addicted to the whole hustle of life, work, and go-go-go," she reflects. "When that was stripped away, we were all kind of like 'Who are we? What are we doing?' It was really important for me to recognize that it's okay to chill for a bit."
As she mulls over that last statement, twiddling with the silver hoops poking through her dark bob, Hale adds another thought: "Our worth doesn't come from being productive," she says. "We are worthy just as we are." Indeed, when it comes to taking our lives by the reins—professionally, personally, and health-wise—we need to remember that we're all just figuring it out along the way. But as long as we feel empowered to make the best decisions for ourselves, we're doing something right.