Lucy Hale just chopped off all her hair and dyed it goth brown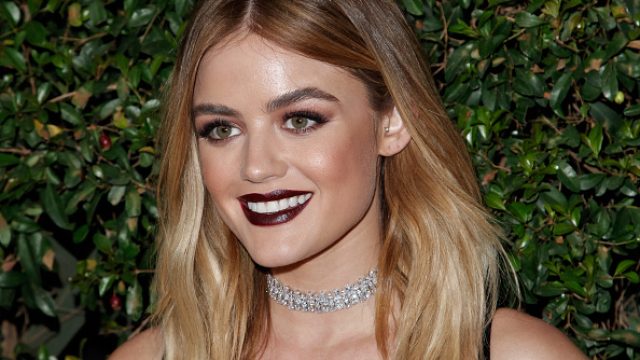 This is not a drill! Lucy Hale just changed up her hair in a major way, and is looking absolutely gorgeous. A little over a month ago, Hale and the rest of the Pretty Little Liars crew wrapped on the series, which will air in the spring, and Hale said goodbye to Aria Montgomery by going blonde.
Now, Hale's returned to her dark roots, dying her hair a dark shade of brown and cutting it into a chic bob. She took to her Instagram to reveal her new look, captioning the pic, "? I go back to blaaaaack. Thank you @kristin_ess for taking me back to my true self ??."
Check out the Insta below:
The actress and singer also posted this ~flawless~ photo of her looking like a goth princess, killing it in an all black ensemble. We're sure Aria would approve.
https://www.instagram.com/p/BNnvNNmBNv7
For the last few years, Hale's been somewhat of a beauty chameleon, playing with the color of hair often. Unable to completely change things up, due to her commitment on the Freeform TV series, Hale was finally able to give Aria a stunning ombre for the show's five year jump. She's proven that she really can pull off every hair color.
[tempo-video id="5236510909001″ account="4607804089001″]
After wrap, she debuted a blonde lob:
Lucy is the definition of hair goals and we're living vicariously through her Instagram feed. Seriously though, Lucy's proven time and time again that you can still have incredible hair during a color transition.