Lucy Hale admitted she had to cover up hickeys on the set of "Pretty Little Liars"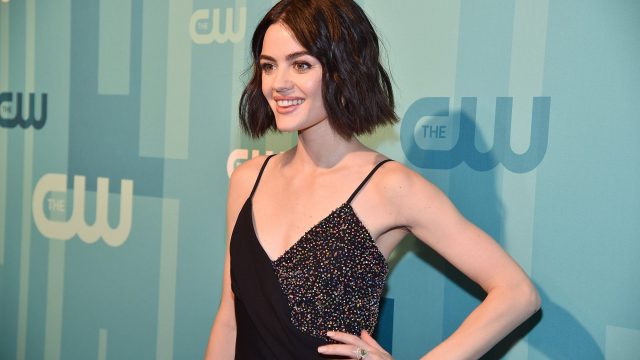 It's hard to believe that Pretty Little Liars is really over. Luckily, there are still countless stories to be shared by the cast and crew…like this juicy nugget about how Lucy Hale had to cover up hickeys on set. That's right. As we reported yesterday, when the cast reunited on The Ellen Show, an assortment of fun facts and silly secrets were shared by all. And while we already reveled in the fact that Lucy Hale crushed on Ian Harding during Season 1, this whole hickey fiasco is probably our second favorite reveal.
During a game of Never Have I Ever, Hale confessed that she's had to cover up hickeys on several occasions. And while she had to keep them hidden from work for obvious reasons, she also had to hide them from two very specific people: her parents.
"I've got very sensitive skin," Hale joked.
Despite an apparent penchant for hickeys, Hale was always the face of professionalism on set. Throughout the many seasons of Pretty Little Liars, we never saw a love bite onscreen. The triumph likely belongs to the show's makeup crew, who no doubt have a whole host of tips and tricks for dealing with this kind of thing.
https://www.youtube.com/watch?v=krGRMSn4BnY?feature=oembed
So remember, if you ever had the all-too-real struggle of covering up an unsightly hickey, you're definitely in good company.