Lucky Charms oatmeal is apparently a thing now, so get out of our way!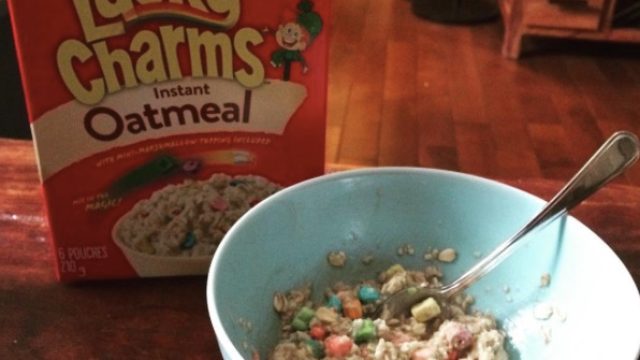 There are a lot of great things about breakfast food, but one of the best is that it includes cereal. It takes literally seconds to prepare, and it comes in all kinds of yummy flavors. And it doesn't get better than Lucky Charms.
OMG it does get better! Our favorite sugary goodness with mini-marshmallows in oatmeal form? SIGN US UP! Because when it's kinda cold outside, the best thing in the world is a big bowl of hot oatmeal. Here's the thing, though: It's currently only available in Canada. WHHHHYYYY?!
Noooooooo. This is our appeal to General Mills: please let us enjoy Lucky Charms Oatmeal, we promise we'll be good! Okay, that sounded desperate. But like, this is serious stuff.
And wait, they have Cinnamon Toast Crunch Instant Oatmeal as well?? That's just mean!
It's okay, we can be patient. And in the meantime, we can buy a bag of just the Lucky Charms marshmallows on Amazon, and sprinkle them on our regular oatmeal! Desperate? No, we're just finding a practical solution. What? It's not weird.
Oh boy…all this talk of breakfast food is making us really hungry. What's that? To the cereal aisle? You read our minds.