LPA is the cool Los Angeles-based fashion brand inspired by Italy that we need in our lives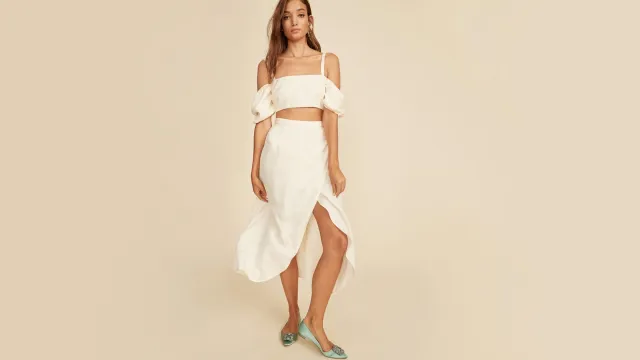 What would you wear to your dream date in Italy? Perhaps a wide-brimmed straw hat to protect you from the Tuscan sun, or maybe you'd prefer a dainty silk slip for maximum breeze exposure in Venice. Either way, there's probably a specific look that comes to mind when imagining traveling Italy.
Luckily, Los Angeles-based brand LPA is making our Italian fantasies complete, thanks to their collection of breezy silky sets, dresses, kimonos and bodysuits that are all inspired by the romance of Italian life. Founded by Pia Arrobio (LPA stands for Lara Pia Arrobio) the brand's latest collection is filled with red ruched dresses and lace-up pants, leather shorts, and crisp white sets with draped sleeves and full skirts.
The devil is in the details, and LPA's pieces are nothing if not devilishly detailed. From their take on classic jewelry, which is always done in the vein of "more is more," to the embellishments and accents on the pieces, like studded leather jackets, LPA is not simplistic but it still feels simple. All you need when you wear these pieces is a swipe of lipstick and some shoes, and even those feel unnecessary!
In an interview with WWD, Pia said "Making girls feel confident and finding something that's a little special that makes you feel good, that's important. I try to eliminate as many things as possible [on a garment] that makes someone feel uncomfortable." And we can't help but applaud this notion. After all, fashion is meant to make you feel good, and what's the point if you're going to be worrying about a pesky detail all day?
At least we know what we'll wear on our next Italian adventure.