"Low Strung" is a new millennial web series that makes you laugh first, then disrupts gender, race, and sexuality norms second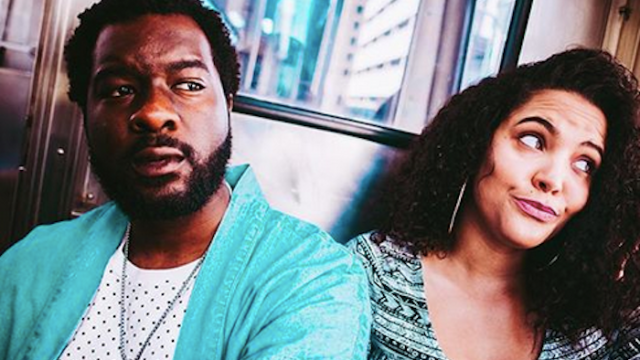 Comedy is seeing a much-welcomed rise in strong female, minority voices. From Lena Waithe's historic Emmy win for writing the Master of None episode focused on her Black lesbian character to Jenny Yang making us laugh while breaking stereotypes about Asian Americans, you could say that 2017 served us a lot of comedic realness from women.
A new web series called Low Strung — co-written, directed, and produced by talented women of color in Chicago — is proving that race and gender don't always have to be focal points to get laughs, especially from minority characters.
 Low Strung follows the lives of two black friends in Chicago, Victoria and Shervin, played by newly minted actors Victoria Lee and Shervin Bain. 
Watch Low Strung's trailer below:
The entire cast and crew are local to Chicago and were all friends ahead of production. Victoria stars in the show with Shervin, and produces and co-writes with Ruth Perret-Goluboff. Fierce Chicago musician Lili K supervises music and co-directs the series with Addison Wright.
Low Strung is relatable and unique, offering a satirical take on everyday life, including relationships, friendships, work and just life as an adult. 
Add in the fact it's a raw, real look at the lives of two Black, millennial friends and we have a must-see series.
"I feel like there is a renaissance going on with minorities and storytelling, like with Issa Rae and other filmmakers. Obviously, people of color have stories to tell, Victoria says. "I don't know why everyone is still surprised. We have the craziest, most beautiful and intense stories.
Low Strung features jokes that mix millennial realism with social context. For example, a blind Tinder date for Victoria starts off fine until she realizes said date is wearing an All Lives Matter shirt.
In another scene, Victoria reveals her chest wrapped in bloody bandages from a breast reduction; it was a surgery Victoria underwent in real life, and she wasn't afraid to show it on the series.
"I had the surgery in between filming… I wondered if people would notice if my boob size changed and Lili said we should just write it into the show, Victoria says. "So, we just upped the ridiculous-ness of it. When I had the surgery, I was totally fine with people knowing. I don't have any reason to feel shy or bad about it; it is what it is.
Victoria and Shervin explain the show as being an amplified version of their actual lives. From Victoria's background as a half-black and half-white woman to Shervin's life as a gay black man, the two say that if political statements are made in the process of their storytelling, it's a bonus.
"We're just trying to give our point of view, our lives in this world and not trying to necessarily make a big statement," Shervin says. "Vic and I are living as us. If you get a statement from us being us, then good for you. We want you to learn something… We're adding to the conversation.
Lili, whose had ample experience in entertainment as a professional singer, says this series provides a refreshing point of view on diversity and minorities.
"I recently heard something that spoke to me: 'Diversity is just reality.' We don't have to harp on the fact this is diverse, Lili says. "Let's just represent reality in an honest way.
The web series, with its eclectic take on millennial life, is already winning attention and accolades. With just four episodes out, Low Strung was recently nominated in four categories at the 2017 Brooklyn Web Fest: Best Actress (Victoria Lee), Emerging Voices, Outstanding Premiere, and the DaF Award (for diversity).
Victoria won Best Actress, a moment she says was "an out of body experience" and "so reassuring" for the series.
Ready for a peek at Low Strung? Head to www.lowstrungseries.com to get your fill, and get ready for their new episode on February 27th.