10 wedding trends that are here to stay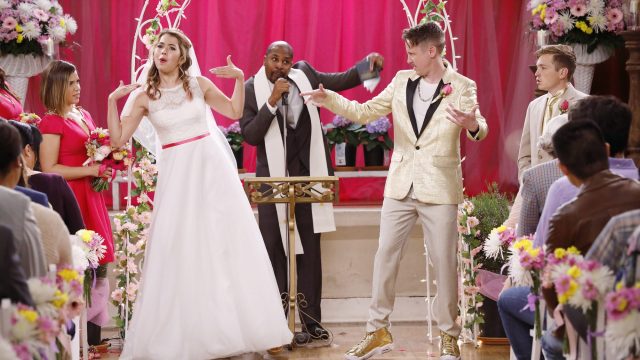 We can all breathe a sigh of relief that some tacky AF wedding fads (we're looking at you, "dollar dance") have fallen out of fashion. But there are a handful of newer, cooler wedding trends that don't seem to be going anywhere. These trends are built to last.
Chalk it up to social media for helping these trends take off. (#WeddingHashtags, anyone?) We suspect that non-white gowns and the other nouveau wedding ideas below are destined to become the new norm.
1Creative "Save the Dates"
via giphy
No longer does a Save the Date need to be printed or calligraphed on a piece of paper; couples are sending everything from magnets to corkscrews and YouTube videos. A postcard can be easily thrown away, but a John + Emily beer koozie can live forever.
2Food trucks
When you think of wedding food, a plate of dry chicken and mashed potatoes might come to mind. But it's become popular for couples to opt for food trucks, rather than serve a plated dinner at their wedding. Not only are food trucks usually a much less expensive option than a traditional caterer, food trucks can operate anywhere (even non-traditional and outdoor venues). And let's face it, they're just rad.
3DIYing
There's a reason that DIYing your wedding is never going to stop being a thing, and that's because the wedding industry slaps a 100% surcharge onto everything. So DIYing your wedding flowers, decorations, or cake can be much cheaper than hiring a pro.
4Non-white wedding gowns
via giphy
Years ago, if a bride wore anything other than white she was labeled "alternative." Nowadays, it's common to see more brides skipping the tradition of wearing white on their big day (which, BTW, is a tradition only because Queen Victoria started the trend during her wedding). Jessica Biel and Reese Witherspoon are just two of the many celebs who opted for pink gowns instead of white.
5Coordinating (but not matching!) bridesmaids
One of the worst bridal clichés is forcing your bridesmaids to pay hundreds of dollars for a dress that isn't flattering on them. And, really, does anyone look good in brown taffeta? Since bridesmaids never have the same body type, coloring, or style preferences, the new trend of coordinating but not matching gowns has taken off. Now bridesmaids can actually help choose the dress they want to wear. What a revolutionary idea. Finally!
6Wedding hashtags
Wedding hashtags seem to be de rigeur these days, even sprouting a cottage industry around it. Although it can be #damnhard to think of one that's not already in use, wedding hashtags are bound to stick around for awhile.
7Crazy dance numbers
via giphy
No longer is it just the bride and groom who are a part of these choreographed dance numbers, now all the wedding guests may be asked to join the dance! And the production values are only get bigger and more expensive.
8Novelty desserts
Dessert bars are like Tinder; you can sample everything without having to commit, and that's what's made them a hit at weddings in recent years. Why only have wedding cake, when you can dazzle your wedding guests with an array of cookies, miniature pies, and donuts?
9Dogs of Honor
If someone (say, a cat-lover) doesn't understand why dogs are now a big part of weddings, simply explain the math to them: Your dog = your best friend, and your best friends = your wedding party, so, thus, dogs now often play the part of groomsmen, bridesmaids, ring bearers, flower girls, ushers, etc.
10Late night snacks
After an evening of dancing and drinking, the need for late-night munchies gets real. Thankfully, some geniuses decided it was better to feed their wedding guests mini tacos at the end of the night, rather than make everyone go through the Taco Bell drive-through on their way home. From renting an entire In-And-Out food truck to having your caterer put some pizza slices in to-go boxes for your guests, late night snacks keep the celebratory vibes going all night.