The "Love Actually" cast is already filming the sequel, and the photos are to die for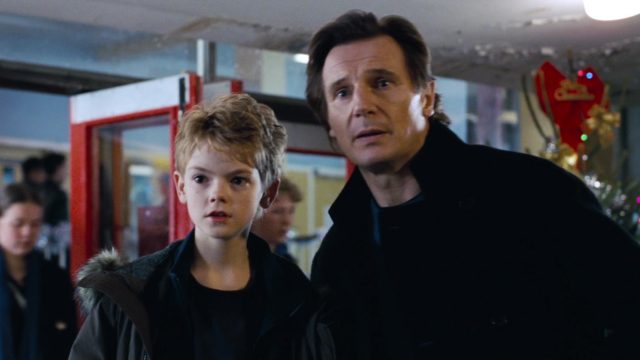 One day after we all found out collectively that Love Actually was getting a "sequel" in the form of a short film for the UK's Red Nose Day, photos of the cast reuniting to relive some early-aughts magic surfaced on Twitter.
Titled Red Nose Day Actually, the short will revisit several of the original film's most prominent characters in modern day, with talent like Hugh Grant, "chubby" secretary Martine McCutcheon, Keira Knightley, Andrew Walking Dead Lincoln, Colin Firth, Lucia "can't understand Colin Firth" Moniz, Bill Nighy, and Rowan Atkinson all already confirmed to participate.
It was Liam Neeson, Thomas Brodie-Sangster, and Olivia Olson who showed up on day one, though, as Red Nose Day director Emma Freud excitedly confirmed on Twitter.
Notice that Neeson is wearing one of his character Daniel's somehow iconic turtlenecks in the photo she shared, while Brodie-Sangster still looks exactly like Sam…but like, only if Sam moved to Brooklyn.
Freud, who is also the wife of Love Actually (and Red Nose Day Actually) director Richard Curtis, also shared a pic of Daniel and Sam having one of their infamous bench talks. About love, probably.
Olson's presence on set pretty much confirms that Sam and his 2003 beloved, Joanna, stayed in touch for 14 years after Sam's This Is Us-style grand romantic gesture at the airport.
Rodrigo Santoro, who played the object of Laura Linney's affections, was there, too — which is interesting, as Linney's name has not been included on the list of returning actors.
Freud's Twitter account is going to be the one to follow in the coming weeks as they put this whole thing together. Red Nose Day itself will take place on March 24th in the UK (25th in the U.S.), so stay tuned for more developments as we all get the shit kicked out of us by love. Again.