Here's the meaning behind the royal baby's surprising name choice, *and* how you pronounce it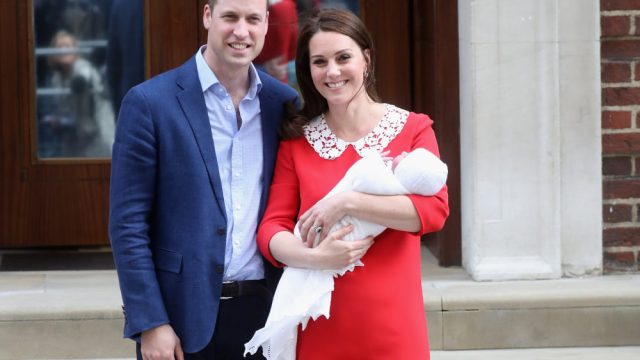 It's here! It's finally here! Today, April 27th, Kensington Palace revealed the name of the new royal baby. But what does the new royal baby name mean? Okay…let's back up. Firstly, in an official statement posted to Twitter this morning, the palace stated:
"The Duke and Duchess of Cambridge are delighted to announce that they have named their son Louis Arthur Charles. The baby will be known as His Royal Highness Prince Louis of Cambridge."
LOUIS! (Pronounced Loo-ee, not Lewis). It's both adorable and unexpected (most people were hedging their bets on Philip, the name of Queen Elizabeth's husband and the baby's great-grandfather — as all fans of The Crown surely know).
Now that we finally know the little prince's moniker, many are now wondering: What does Louis mean, and what's the significance of the choice? According to People.com, Louis means "renowned warrior" in French, and may be a tribute to Prince Philip, since Louis was his grandfather's name (Prince Louis Alexander of Battenberg, to be exact). The name may also be a nod to Louis's grandfather, Prince Charles. Charles' great uncle and mentor, Earl Louis Mountbatten, was assassinated by the IRA in 1979. Basically, like most royal name selections, this is a family name, so it's not technically the most surprising choice.
Louis joins George (4) and Charlotte (2), and we're still waiting on pictures of all three royal children together (hint, hint, Kensington Palace).
In the meantime, we're sending nothing but happiness their way. To Louis Arthur Charles!