Lou Eyrich, costume designer of "American Horror Story" gives us the scoop on the show's killer looks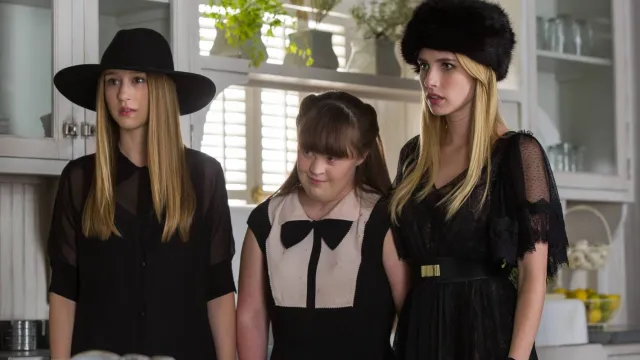 Dedicated fans of American Horror Story have longtime been obsessed with the series not only for its exciting (and absolutely frightening) storylines, its complex characters and the insanely talented actors behind them, but also because of the magnificent wardrobe design.
With costumes birthed from themes ranging from colorful circus freaks to couture-dressed witches, the horror anthology series has cemented itself as one of the most stylish shows in all of TV's history — all thanks to Lou Eyrich.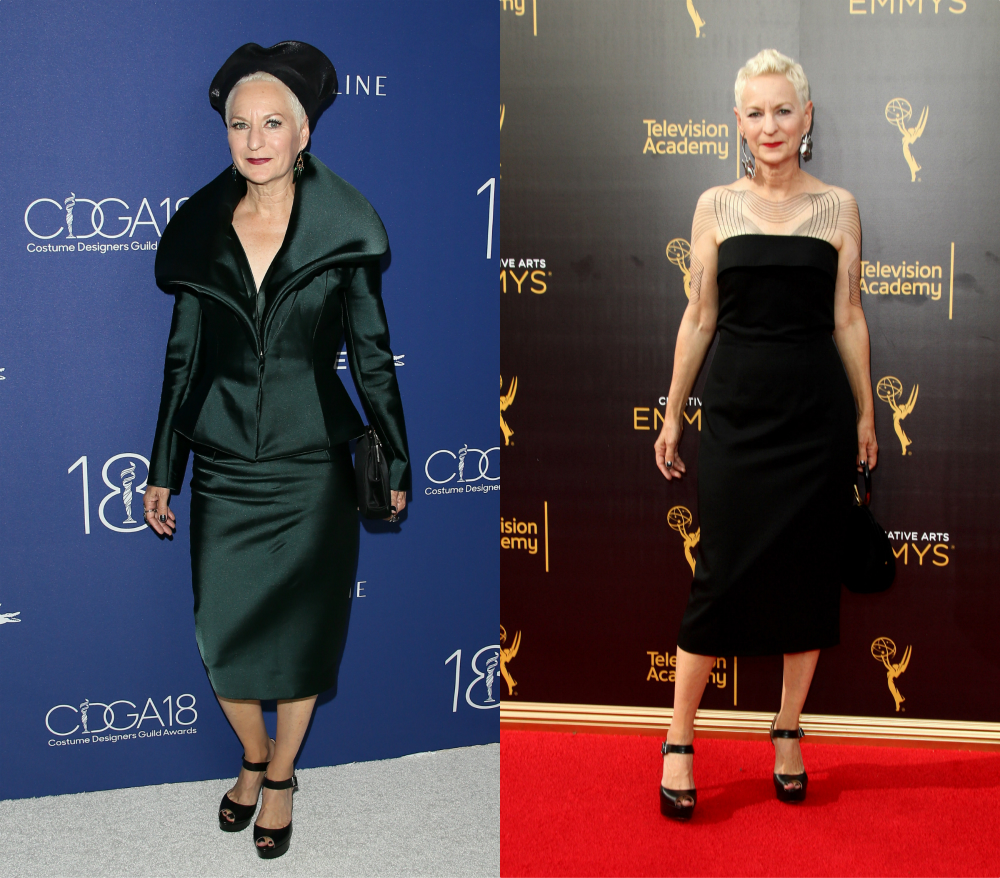 The Emmy award-winning costume designer has been behind the wardrobe since the series debut, as well as last season's Scream Queens, Glee, and even the beloved late '90s comedy, Popular.
In celebration of the Blu-ray and DVD release for Hotel, we spoke to Eyrich about her inspiration for Lady Gaga's stylish murderess, which costumes were the most challenging, and the "fashion witch" trend that is still prevalent three years after Coven first aired.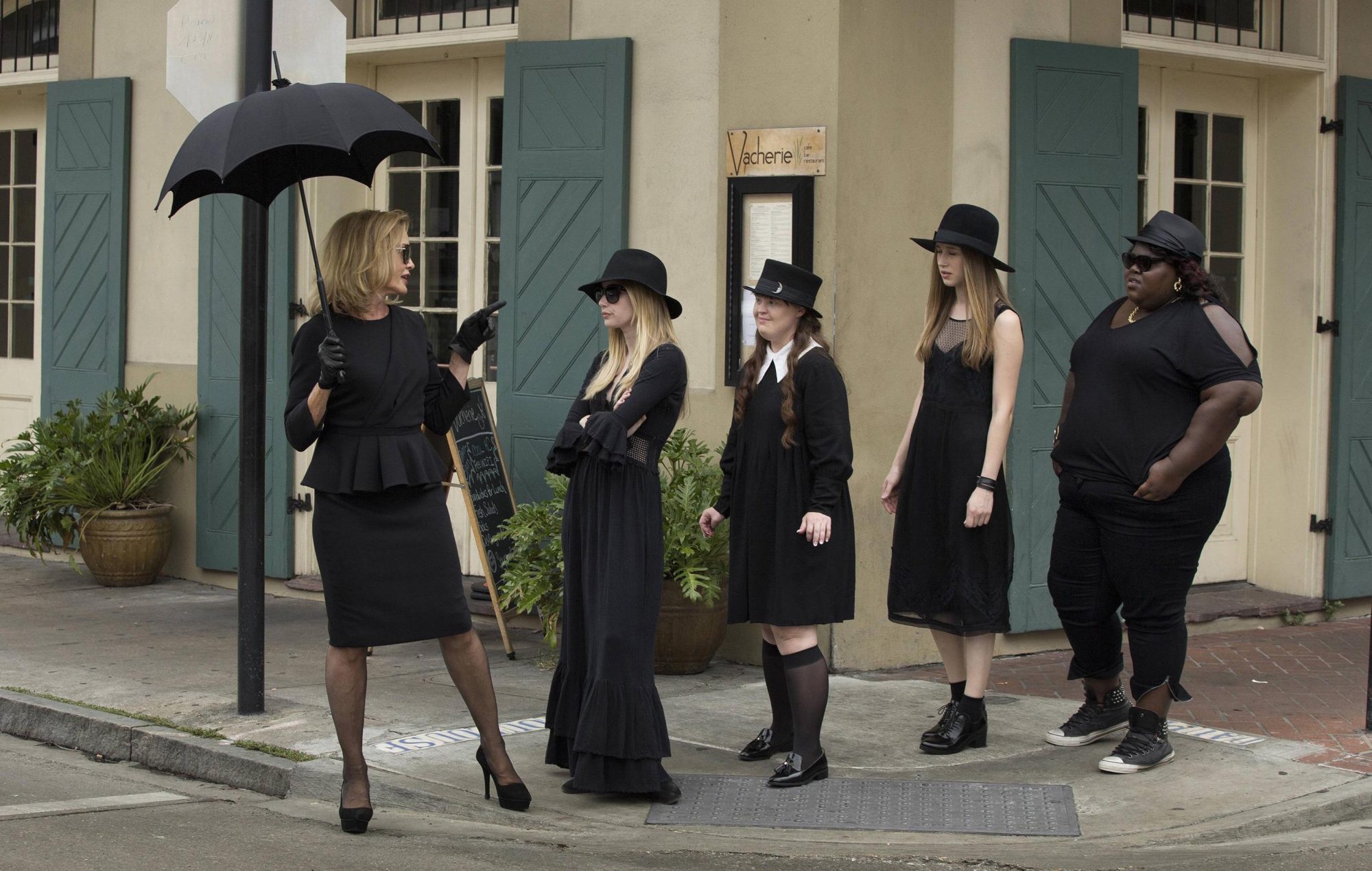 HelloGiggles: You've done so many themes and costumes throughout the seasons of American Horror Story. Which ones were your favorite, and which ones were the most challenging?
Lou Eyrich: I loved doing Hypodermic Sally because it was so different from Sarah Paulson's other characters, and I just love how Sarah embraces her characters every season. We have a lot of fun collaborating so that was one of my favorites. There's of course Dennis O Hare's character, Liz Taylor, who was really fun. And then, of course, the Countess was both terrifying and terrific because there was so much involved in it, so many changes. I didn't get to see Gaga until a few days before we shot so it was very challenging, but very rewarding.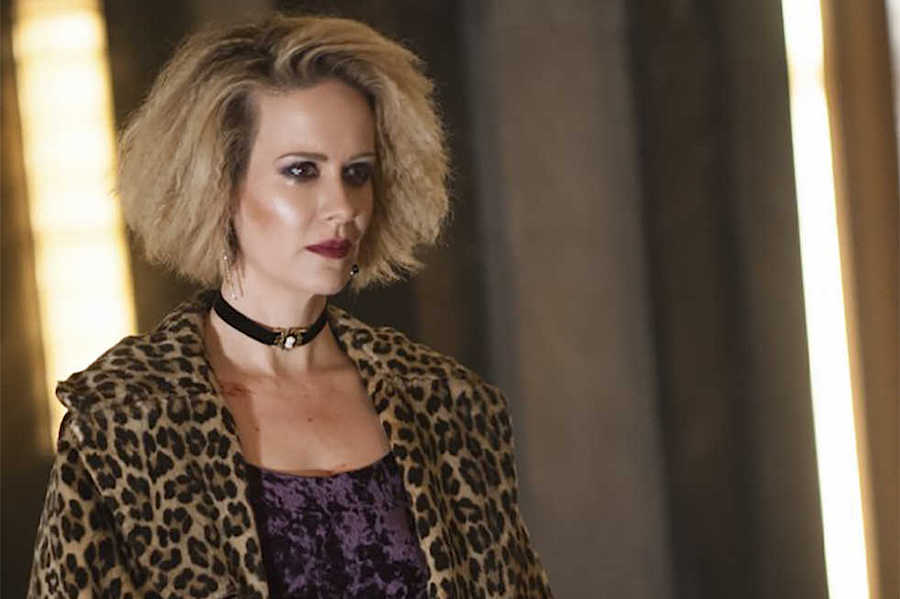 HG: Speaking of Lady Gaga, can you talk about where you got some of those outrageous outfits, including that glove she used?
LE: The glove was designed by a Los Angeles jeweler named Michael Schmidt and he's done a lot of work with Madonna, Rihanna — it's a long list. But he has a jewelry line and his stuff is very similar to what I wanted for the glove, so I contacted him and he took on the project. It was a really difficult design for the glove to both fit and work logistically, with Gaga being able to flip her wrist and have the nail pop out, as well as go with most of her outfits. But Michael Schmidt was able to design that glove and it was a labor of love. There are 11,000 crystals on each glove.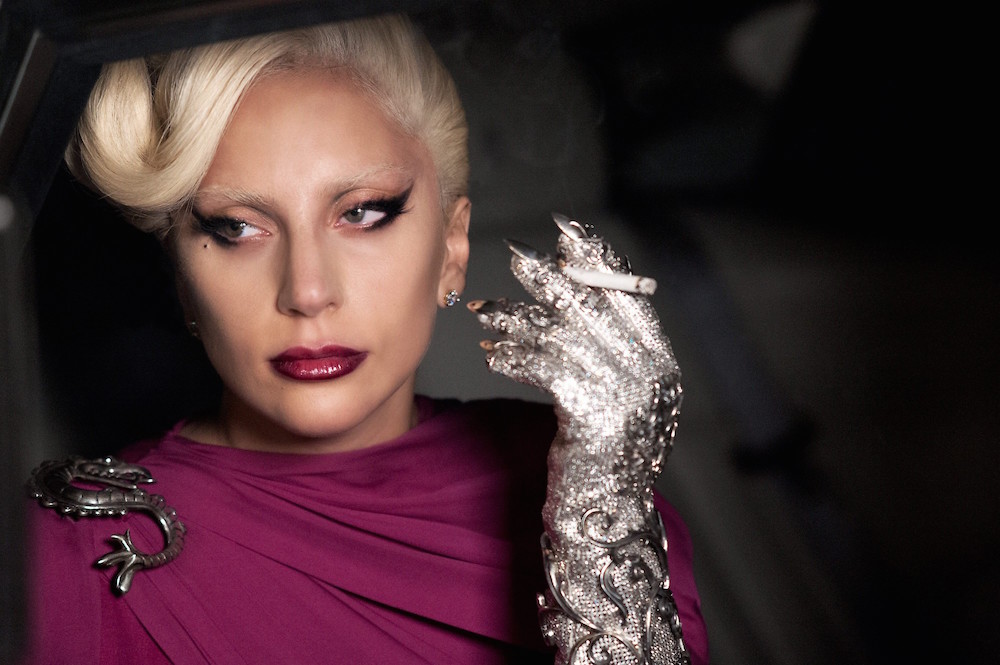 HG: It seems like the high drama look of Hotel is a complete 180 from this new season. Do you have a preference as for which eras or what style you like to design for?
LE: Well, the reason I love Hotel, Freak Show,and Asylum is that they are period mixed with contemporary, so it's a real fun challenge for me to design those characters. With this season there was a lot of made to order so it could be historically correct. I like creating characters. I guess the answer to that question would not be a particular period; it's the designing of new characters that stimulate me and excite me.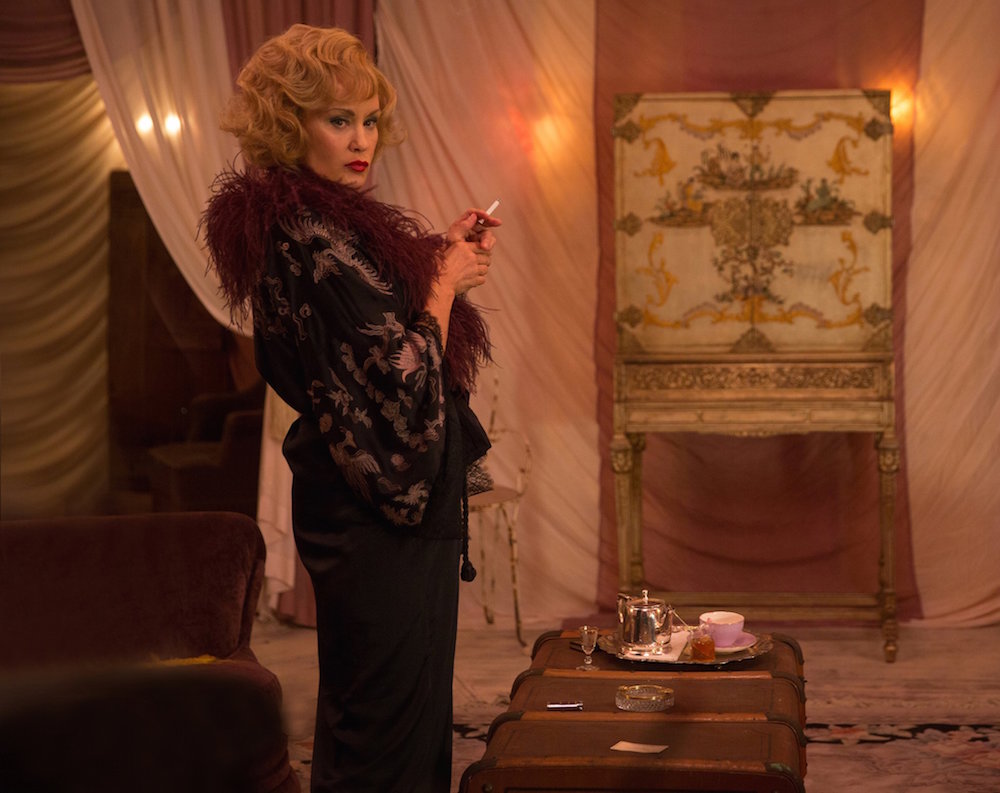 HG: The third season, Coven, was filled with so many cool, witchy outfits. Where did you get inspiration for those looks?
LE: I actually got inspiration from the runway. I did a lot of research at the time — which was a couple of years ago — on what was happening both currently on the runway and the past seasons of the people that I admired who had that kind of element, that voodoo, witchy element. That inspired me, and also getting down to New Orleans and the vibe of it, and so I took the Voudoun witch idea and made it modern and approachable for young 20-somethings.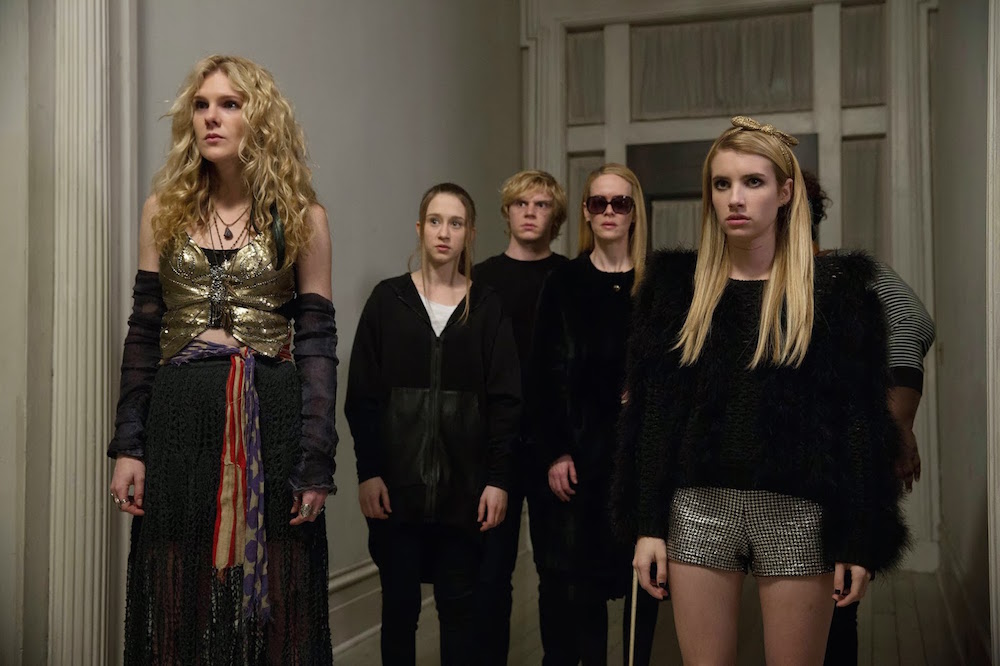 HG: Why do you think that style has caught on and stuck around?
LE: I would say because it's both flattering on most body types, it's got an element of both the '70s and contemporary, and it's got both a funkiness and a chicness to it. I don't think I invented it, I think I just brought it back to the forefront and reminded people like, "Oh I yeah I love that look." It's such a simple look that you can take a black dress and make it funkier by adding a big hat.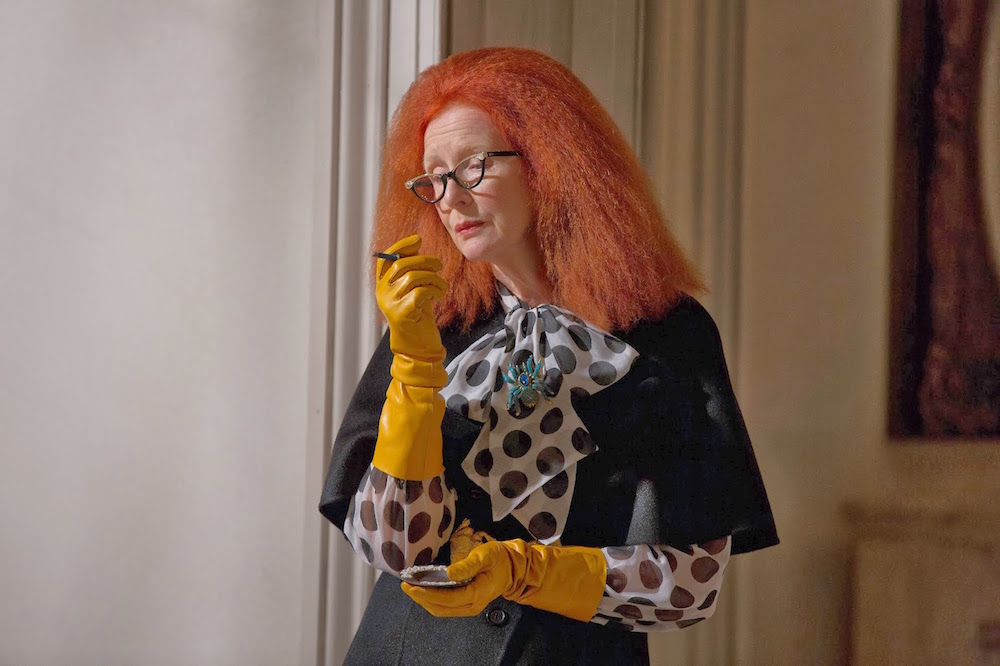 HG: You've worked with Ryan Murphy for many years. Are the costumes a collaborative effort or does he pretty much let you do your thing with it?
No. Ryan's very hands-on. When I get the script we have a meeting before we start. He'll know the color palette, like for Scream Queens he knew exactly what he wanted. He wanted it to look like a foxy macaron, like cotton candy. He wanted them to be in pastels and dripping in gold and fake fur and feathers. So he always knows what he wants and it's very much a collaborative effort.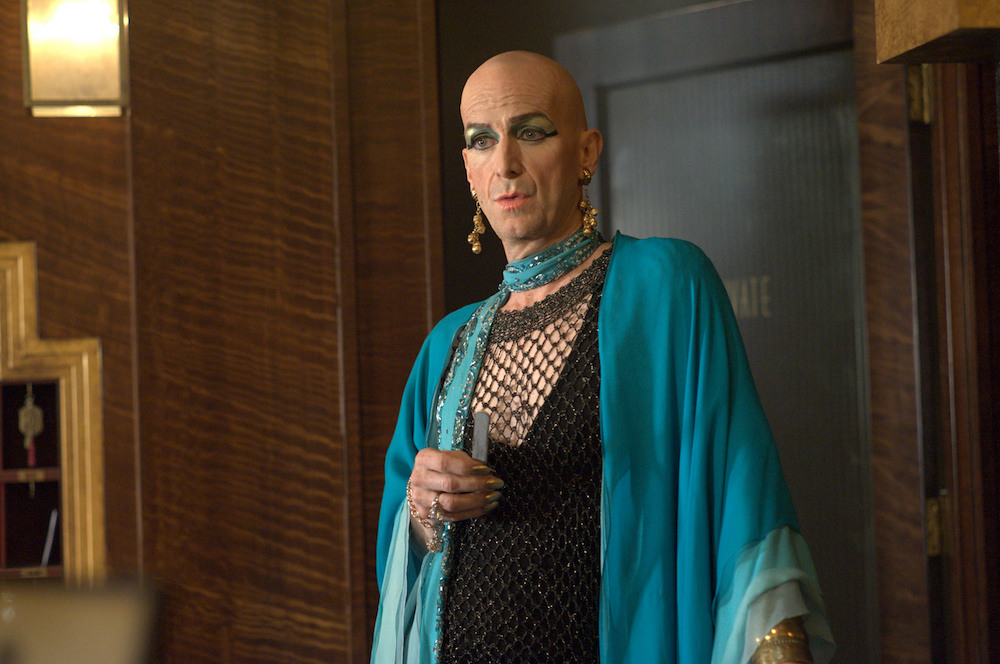 American Horror Story: Hotel is out on on Blu-ray and DVD on October 4th, and you can catch the current season of American Horror Story Wednesdays at 10 p.m. on FX.