One of the showrunners of "Lost" just suggested a reboot, and yes, we have to go back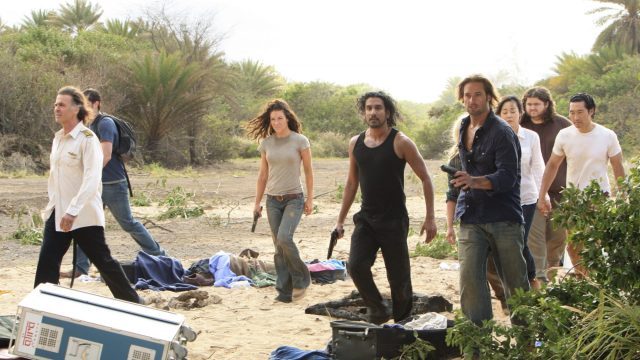 The mantra "see you in another life, brotha" might actually be referring to now. Since we can never have too many reboots, why NOT bring Lost back? OG Lost showrunner, Damon Lindelof, just threw out there into the world that he wouldn't be opposed to a Lost revival. We just have to make it for him.
Lost — in case you haven't gotten around to binging the series on Netflix — without a doubt, really kicked off the growing trend of mythology TV shows, and also immersive TV shows. Lol, remember watching Lost in like 2008, and growing more and more obsessed with the show, as you spent hours of your life trying to figure out what the heck was going on? Lost might have even aired before its time, since when it ended, Twitter was barely just starting (omg, can you even IMAGINE Lost in the time of Twitter?).
If there's one show that would certainly thrive again with social media, it's Lost. Might as well bring it back.
While the show had a very clear beginning, middle, and end just because the passengers of Oceanic Flight 815 finally found peace, doesn't mean there isn't more story out there. In a new interview with Entertainment Weekly, Lindelof toys with the idea of bringing Lost back. He just wants nothing to do with it (okay, fine, understandable).
"As it relates to Lost, which was so heavily serialized, I do think it's somewhat of a betrayal to go back in and say there's more story to tell that I just came up with now, especially when we had ample time to end it on our own terms, he explained to EW. "Those characters not only died, but we showed you their experience post-death. Any new take on Lost will probably have to feature new characters, as it should."
OH, new characters you say? Citing Star Wars — something that clearly heavily influenced Lost (Season 5, Episode 13, "Some Like It Hoth" anyone?) Lindelof continues that there could always be another version of Lost with another another Smoke Monster. Just because this story is done doesn't mean there aren't other Islands out there.
"[Executive producer] Carlton [Cuse] and I always said that we welcome any future crack at the [intellectual property]. Lost was bigger than us and bigger than [co-creator] J.J. [Abrams]. There's something really exciting about the fact that George Lucas sold the Star Wars universe and now the people who grew up watching it are making it. Maybe the same thing could be said for Lost.
If there's anyone who knows Lost better than Damon and Carlton, it's the fans who obsessed over everything with the show. Any one of them would be thrilled to try and reboot the series, and it sure sounds like Lindelof is looking for someone to inherit the Island. Someday soon, the keys the Hatch might be yours.