10 things you can do to celebrate Halloween in Los Angeles (if you dare)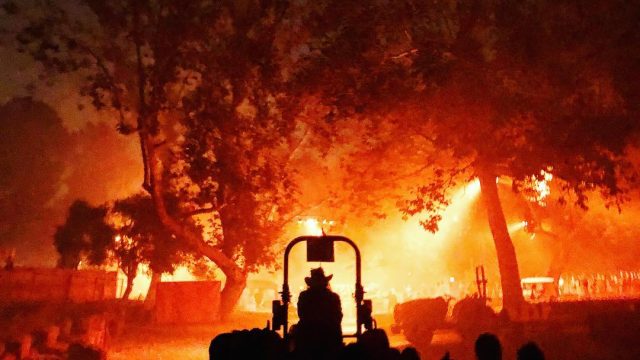 We're not suggesting you leave your holiday plans to the last minute, but if you haven't quite decided how to spend this Halloween in Los Angeles, we are super here for you. Picking the best way to spend Halloween in Los Angeles is no simple task: In a city bursting with parties and art and debauchery on a normal night, it's easy to see why the options can get overwhelming. But don't worry, dear reader — we have a list of our top 10 things to do in Los Angeles this Halloween. And if you can't make up your mind, may as well do them all, right?
1Los Angeles Haunted Hayride
The ultimate October past time — a haunted hayride. You get to combine your love for all things freaky with some traditional fall fare. What's not to love? Literally nothing. Which is why we're going. Probably more than once. Tickets are available online!
2Halloween Horror Nights
This isn't exactly a well-kept secret, but Universal Studios does Halloween right. The whole park gets filled with haunted houses and mazes guaranteed to scare even the most stalwart of horror junkies. The tickets can be pricey, but we have it on good authority that you'll be hard-pressed to find a more iconic L.A. Halloween event anywhere. So it's probably worth it. (Also, now that there's a Wizarding World of Harry Potter, we're extra in for some spooky Hogwarts shenanigans.)
3Knott's Scary Farm
Slightly less well-known but no less spooky than Halloween Horror Nights is Knott's Scary Farm. In addition to being a truly excellent pun, it's a guaranteed spookfest at a theme park we, at least, forget about too often. (We're not suggesting a theme park Halloween party crawl — but we're suggesting a theme park Halloween party crawl.)
4Día de los Muertos
On Saturday, October 28th, there's a massive Día de los Muertos — or Day of the Dead — celebration in the Hollywood Forever cemetery. Tons of amazing food, cute stands sellin' cute stuff, and live music on top of the spectacular displays in honor of people's loved ones. The Day of the Dead is a culturally significant holiday, so it's worth doing some reading and thinking before deciding to dress up, but if you participate responsibly and mindfully, it will be an amazing pre-Halloween celebration.
5Boo-Yancé Dance Party
This might top our list of Halloween-related puns. The Echoplex (not to be confused with The Echo, which both is and isn't the same thing) is hosting a dance party and calling it Boo-Yancé, so obviously, we must attend. It's $5 at the door if you RSVP on the Facebook page, and $10 if you're wild and like to fly by the seat of your pants (or, like, broom). Don't forget your Bey costume.
6Dark Harbor
If you've never heard of Dark Harbor, don't worry — it doesn't exist at any other time of the year in L.A. It's a haunted maze full of all kinds of ghouls guaranteed to make you jump. And bonus! It takes place on a boat. It's the Queen Mary, docked in Long Beach, so pack your seasickness medication and/or bracelets and get ready for a happy Halloween.
7Wicked Lit
An immersive theater company in Altadena is hosting its ninth annual Halloween production in a — wait for it — mausoleum. It runs for almost three hours, and attendees will be walked through the mausoleum and other sets while enjoying some ~spooky~ theatre. Art and Halloween. Has there ever been a better union?
8Boo at the Zoo
If you're looking for something a little more family-friendly (or if you're just a baby and don't like to be scared — we feel you, we don't judge), Boo at the Zoo might be the answer. The Los Angeles Zoo hosts a Halloween-y event in October, complete with a corn maze and Halloween-themed animal presentations. Yes, please.
9WeHo Halloween Festival
Located on Santa Monica Blvd. between Doheny Drive and La Cienega, the West Hollywood Festival is the go-to nightlife event of Halloween in Los Angeles. If you've never been, you are super missing out. All of the bars in the area host their individual events, plus the streets themselves become a massive party with stands that are jam-packed with costumed Halloween lovers.
If you plan to Lyft or Uber (and if you're gonna drink, we obvi recommend it), make sure you plan ahead — surge fares can push rates to a range that might be the scariest thing we've ever heard of on Halloween.
10Attend one of, like, four hundred parties in the area.
We love a big event as much as the next person, but sometimes you just want to party. Never fear, as Los Angeles is not short on party options. A quick perusal of your Facebook will likely clue you in to friends' Halloween parties, plus any major Halloween party (like Boo-Yancé!) in the area. But a quick Google search will bring you to a variety of lists — like this one — with every Halloween party in the area, and the deets on how to RSVP, or how much you'll have to pay for a cover. If you're lookin' for a good time, you're sure to find it.
Happy Halloween!