Lorde opened up about life and her upcoming second album in this super beautiful Facebook post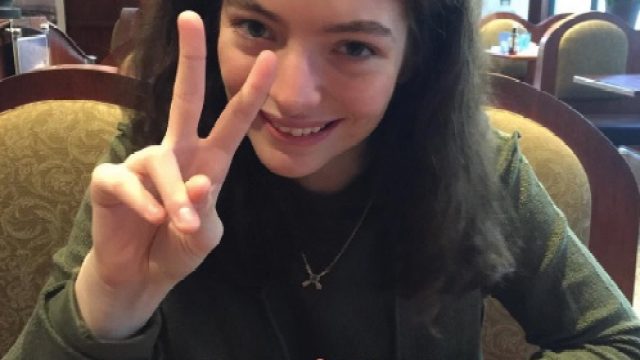 It's been a while since we heard new music from Lorde, but Entertainment Weekly let us know that she posted a beautiful note about her second album on Facebook — so we know it's coming soon! We've been excited since we heard that she's working on a new album, because this girl is mega talented to boot. Remember when you couldn't stop listening to her new song with Disclosure? Well, prepare for things to get even better.
The FB message was titled, "A NOTE FROM THE DESK OF A NEWBORN ADULT," because she wrote it last night, on the eve of her 20th birthday. As in today is her birthday, so HAPPY BIRTHDAY LORDE!
And with her signature unapologetic style, everything she says speaks volumes about the transition she's gone through in the music industry.
"Sometime in the last year or so, part of me crossed over. For one thing, I made a very deliberate choice to withdraw for a little while from a public life. I haven't had my hair or makeup done in a year, the free handbags dried up LONG ago, and the paparazzi at the airport are almost always for someone else."
https://www.instagram.com/p/BLMDXM-hdlt
She goes on to hint that the new album will be influenced by how she's changed as a person.
"I turned inwards to my friends, my family, towards this moment, so I could learn more about who I was, and so I could let this new project show itself to me. And oh my god, it was a colossal year! One for the ages. I maxed out every single emotion I have in the best possible way, the colours still aching behind my eyes like this weird blissful hangover."
https://www.instagram.com/p/BIiIuKghggS
This is bittersweet and downright relatable AF.
"My heart broke. I moved out of home and into the city and I made new friends and started to realize that no-one is just good or bad, that everyone is both. I started to discover in a profound, scary, blood-aching way who I was when I was alone, what I did when I did things only for myself."
https://www.instagram.com/p/BMWo3P1FHy6
We absolutely love how honest Lorde is, and can't wait for her new music because we know it's going to pack an emotional punch. You can read her whole FB post here:
Note how she signs off like a #boss.
"What i'm trying to say is: this is a special birthday. The party is about to start. I am about to show you the new world."
Currently waiting patiently for Lorde to show us this "new world" of which she speaks!