Lorde just called this Katy Perry song "holy," and tbh we 100% agree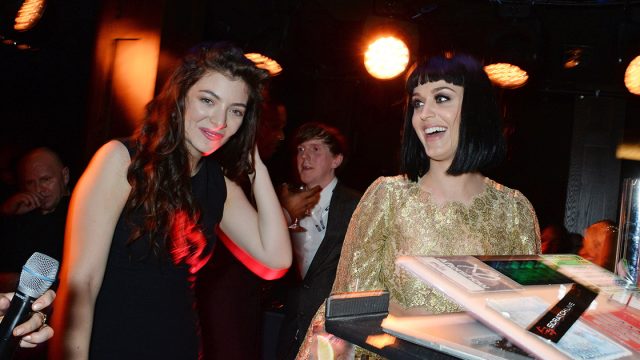 While she might be one pretty cool artist, and her music might be more alt-pop than bubblegum, Lorde believes that Katy Perry's "Teenage Dream" is holy, and tbh we 100% agree with that assertion.
In case you've been avoiding music for the last month, Lorde is BACK with her brand new single "Green Light." The infectious track is a melancholic dance pop breakup anthem, and even in it's rough demo form we've been pretty inspired by just how talented the 20-year-old New Zealand-born singer is.
Lorde has also announced her upcoming sophomore album, Melodrama, which is expected for release on June 16th, and the singer has shared an emotional and tender ballad from the collection, "Liability," which she also premiered during an EPIC appearance on Saturday Night Live.
https://www.youtube.com/watch?v=dMK_npDG12Q?feature=oembed
Of course, we know that Lorde's music isn't as conventional as a lot of the songs that we hear on the radio, but that doesn't mean that Lorde is a music snob.
In fact, during a recent interview with The New York Times Magazine, Lorde said that she found a certain Ms. Katy Perry's iconic youthful anthem "Teenage Dream" "holy."
Meditating on pop music in general, Lorde said that she holds "such reverence for the form," noting that "[a] lot of musicians think they can do pop, and the ones who don't succeed are the ones who don't have the reverence — who think it's just a dumb version of other music. You need to be awe-struck."
One particular song she discussed in relation to that is Katy Perry's "Teenage Dream."
"There's this sadness about it, where you feel young listening to it, but you feel impermanence at the same time, she explained. "When I put that song on, I'm as moved as I am by anything by David Bowie, by Fleetwood Mac, by Neil Young. It lets you feel something you didn't know you needed to feel. "There's something holy about it.
https://www.youtube.com/watch?v=98WtmW-lfeE?feature=oembed
Released in 2010, "Teenage Dream" was the second single to be taken from Katy Perry's record breaking album of the same name. The song charted at number one on the Billboard Hot 100, and has sold nearly 5 million copies in the U.S. (as of 2015), so it seems that a lot of people agree with Lorde here (as do we, tbh). In fact, Gawker voted "Teenage Dream" the best song of the last 10 years in 2014, and hipster music site Pitchfork claimed that it was in the 34th best song released between 2010 and 2014.
Meanwhile, Lorde also teased that her upcoming album Melodrama would tell the story of a single house party. 
"With a party, there's that moment where a great song comes on and you're ecstatic," she said, "and then there's that moment later on where you're alone in the bathroom, looking in the mirror, you don't think you look good, and you start feeling horrible."
Lorde releases Melodrama on June 16th.