This look inside a ship cabin during a storm will make you grateful to be on dry land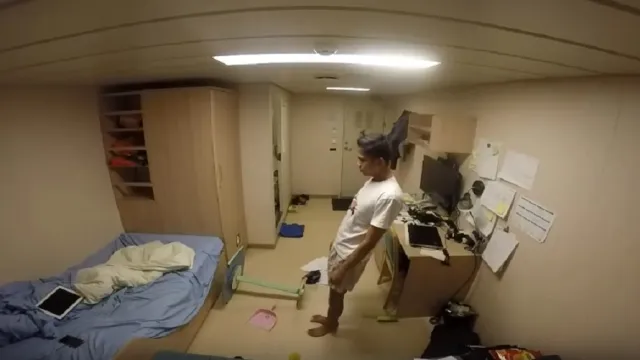 Well, here's yet another reminder that the sea isn't all fun and games. Sure, it's a soothing sight and feels really good to take a dip in, but those warm and fuzzy ocean feels instantly vanish when you're stuck inside a ship cabin during a storm.
Anyone who's ever worked on a cruise ship or spent a ton of time at sea will instantly recognize the non-stop swaying that takes place in this clip, which makes us utterly grateful to be on dry (stable) land.
BTW, did you apply for that ah-mazing internship that pays you to cruise the world and snap pics for the 'gram? Oh. Well, depending on when and where you set sail, brace yourselves because seasickness could plague you in the near future.
Oof, so that was so gloom and doom and makes us sound like the biggest haters ever (honestly, we are a little jelly that you're getting paid to travel the world and stunt on social media), but it wouldn't be nice if we didn't advise you to pack plenty of motion sickness meds and patience in case your vessel encounters rough seas.
Should you wind up like this cargo ship crew member in this Humans at Sea clip, you don't want to get caught off guard: https://www.youtube.com/watch?v=MVPCaa0ctjg
Yikes, that was scary, to say the least. But the good thing is if you do hit some rough weather at sea, you can stop giving lame excuses to your parents about why you have yet to clean up your cabin.