5 sex positions to try if you're in a long-distance relationship during coronavirus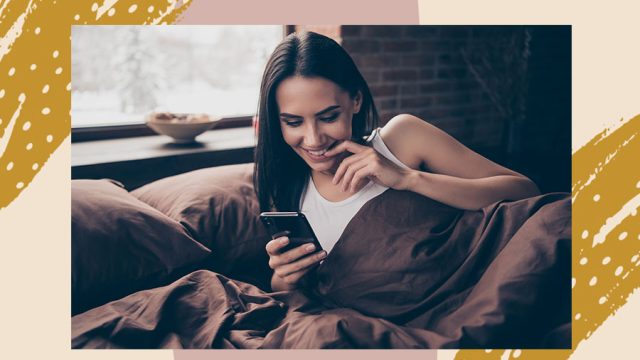 It's sad but true: The long-distance relationship, or LDR, has some serious disadvantages when it comes to connecting and cuddling. Anyone who's in an LDR during the coronavirus (COVID-19) pandemic knows this more than anyone. Not only are you working extra hard to keep in touch with each other during such an unstable time, but you literally can't be near your partner when you need them the most, which means you're also forgoing IRL sex for the next couple of months.
Of course, sex isn't required for a healthy and happy relationship. But if you're used to canoodling with your partner on a regular basis, you're going to feel the weight of an empty bed pretty fast. Here's the good news: An LDR doesn't mean you and your partner have to go without physical intimacy.
"It's important to keep the romance alive in spite of distance so that when you come back together, intimacy has been maintained," Sandi Kaufman, LCSW, a certified sex therapist, tells HelloGiggles. "To turn it on and off because of distance does not make sense if intimacy is a priority in the relationship. If couples don't keep it going, reunions may be awkward and feel disconnected. Shutting off one's sexuality does not happen because partners are away from one another. We are sexual beings and it can be fun to spice up the sexual menu by learning what turns each other on over the phone, through sexting, or [through] video chat."
Assuming that mutual masturbation is how you'll both finish, Kaufman says that you can explore it over any of those three forms of communication. "Sharing fantasies, writing erotic stories to each other, and sharing what you'd like to do to your partner if you were together could heighten the erotic connection," she says.
That's right—an LDR has got its own sexy thing going on, and it fits in the size of your palm: your smartphone. So if you want your partner badly during this pandemic, here's how to do the deed with them if you're not in the same room, city, or country. Try these long-distance relationship sex positions tonight.
1Face only
"Assuming you're using FaceTime or Skype to masturbate together, have your phone right up to your face," Dr. Jill McDevitt, CalExotics' resident sexologist, tells HelloGiggles. "This builds some teasing and lets their imagination do the work as your partner can hear your moans, see your O-face, maybe see your shoulder jostling, but doesn't know exactly what's going on below. It's also super intimate and vulnerable."
While your hands can certainly get the job done, Jess O'Reilly, PhD, host of the Sex with Dr. Jess Podcast, says not to forget that integrating an app-enabled toy can be fun, too.
"You might wear a penis ring, a G-spot vibe, or a panty vibe, or you might play with an external vibe so that your partner can get a better view," she says. O'Reilly recommends We-Vibe, which has a range of toys that can be operated long-distance via the We-Connect app. These include toys for the anus, prostate, penis, clitoris, vulva, vagina, G-spot, and perineum, so you have a large range to choose from.
If you're doing face-only while using an app device, O'Reilly says to make sure that your partner can only see your face as you respond to the toy that they're controlling via the app. "You can also use your hands to rub, touch, caress, stroke, and grind out of sight," she says.
2Rearview
O'Reilly recommends sitting on your knees in front of the camera and letting your partner watch from behind as you play with yourself or your toy. This angle will provide a unique (steamy) point of view that your S.O. may have never experienced before.
3Full frontal
"This is an explicit up-close view of your genitals so your partner can watch you touching and thrusting, but without context. It's like a private porn show just for you," says McDevitt.
Tip? O'Reilly suggests sitting in front of the camera and angling it up so your partner can enjoy the full view of you and your toy or hands.
4Voice only
"Our technology has allowed us to move beyond this, but there's something to be said about old-school 'phone sex' where you have to use your words, breath, and cadence to work your partner up," says McDevitt. "Here, you can use fantasy to create any sex position you want, describing how your body is, or how your bodies would be together, if you were in the same place."
O'Reilly takes the creativity a step further by suggesting you put your phone down and "focus on your own pleasure. Allow your sounds to emanate without inhibition, but don't speak directly into the mic. The muffled sounds from a foot or two away will entice your partner and force them to use their imagination," she says.
5Out-of-sight video sex
Slightly different than voice only, O'Reilly recommends turning the lights down low "so that your lover can only see your silhouette and will have to work to decipher shapes and movements" as you make yourself orgasm.
Being in physical proximity to your partner is ideal when it comes to sex. But as the above examples prove, being intimate in an LDR can still be hot AF.