The Starbucks Christmas Tree Frappuccino is limited-edition AF, so better grab yours now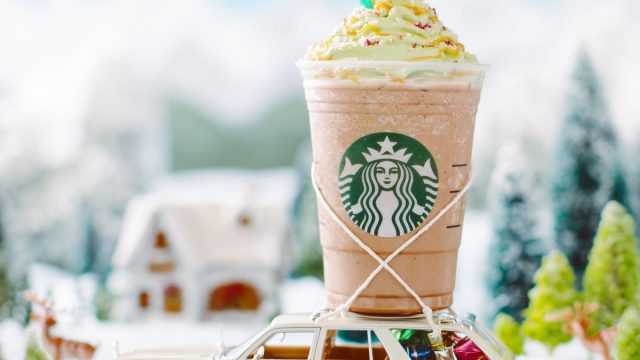 Starbucks loves gifting their customers new holiday-themed beverages to sip on during the most wonderful time of the year. Today, December 7th, Starbucks introduced the Christmas Tree Frappuccino blended beverage. It's a whimsical concoction with a whipped cream tree on top. If you're interested in trying this new frappuccino, run to your local Starbucks now because it won't be around for long.
The Christmas Tree Frappuccino will only be available until December 11th. That gives you a tight window of four days to get your hands on one — no pressure or anything! Though…you're definitely going to want to get your hands on one of this tasty treat.
The Starbucks website describes the drink as "a delicious blend of mocha and peppermint, topped with festive matcha-infused whipped cream, a caramel drizzle, candied cranberries, and a strawberry topper." Sorry Santa, but Starbucks just made all of our Christmas wishes come true.
You may be a bit confused as to why Starbucks introduced a frozen beverage during the winter. But once you taste it, you won't care what the temperature is outside. It's worth the chilly fingertips.
Don't get too attached, though, because come Monday, you'll have to say farewell to your new BFF (Best Frappuccino Friend).
https://www.instagram.com/p/BcZ8iBcFwch
Your holiday season certainly won't be ruined if you miss out on trying this new drink. There are, luckily, so many more holiday Starbucks beverages to enjoy while gift shopping. The Caramel Brulée Latte, the Chestnut Praline Latte, and the Iced Peppermint White Chocolate Mocha are all wonderful alternatives.
But come on — just look at this thing! It makes us want to deck the halls and shout, "Joy to the world!"
Hurry, hurry, hurry to a Starbucks near you! The countdown clock is ticking and the Christmas Tree Frappuccino waits for no man, woman, elf, or saint.