Lonely guy crochets hilariously awesome food hats to make friends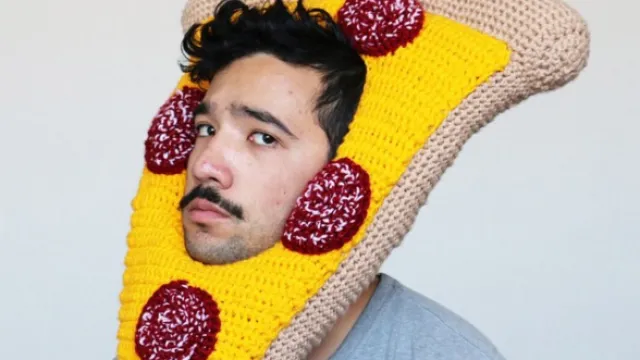 Australian artist Phil Ferguson (@chiliphilly) started crocheting stuff as a way of making new friends after graduating from college and moving to a new city. Almost two years later, the 23-year-old Melbourne-based artist has left his job at the burger joint where the idea was first conceived and has a growing social network of 140K Instagram followers — some of which include celebrities like Miley Cyrus and Joe Jonas (no big deal or anything).
"The hat idea was actually inspired by the character Finn from the television show Adventure Time. He wears a bear hat that covers his whole head and only shows his face," he said in an interview with The Design Files, "Also when I started playing around with making hats, I had started getting into RuPaul's Drag Race and began to appreciate the art, costumery and decadent [headwear]."
Since then, Ferguson has crocheted over 80 different full-head hats:
"Though I'm known for 'food hats' my first few hats weren't food at all!" he explained. "The first hat I made that was an 'object' – a pot plant with a cactus in it. After that I made my first burger hat (which took many months) and after that was popular, I just kept running with the food theme!"
Despite his massive online success, Phil doesn't actually sell any of his hats and is sticking to his original intention of using his art to make friends. "I make hats, then I put them on Instagram, I never set out for it to be a money-making venture," he says.
He's also using his Internet fame for good, recently teaming up with the Satellite Foundation to raise awareness about mental health.